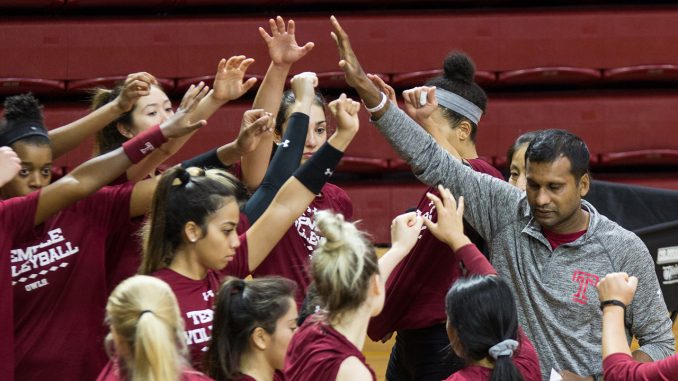 Temple women's volleyball (10-7, 1-5 The American Athletic Conference) snapped its six-match losing streak on Friday at McGonigle Hall when they hosted East Carolina (14-5, 2-4 The AAC).

The 3-1 victory is the first since the Owls' program-best, nine-match winning streak came to an end. The team also earned their first conference win.

"The team worked really hard," coach Bakeer Ganesharatnam said. "They never gave up, and this is a direct result of the resilience they showed throughout the week."

Temple won the first set 25-21, then dropped a tight second 28-26, despite leading 22-18. The Pirates scored 8 of the last 12 points. The third set looked as if it might follow a similar trajectory, with the Owls establishing a 12-4 lead, followed by a 6-0 ECU run, but Temple didn't let up and escaped with a 25-22 win.

They finished the game with a 25-13 win in the fourth set.

"It was really good to see how the team responded because we worked so hard at it, and then it kind of happened again," Ganesharatnam said in response to the ECU comebacks in the second and third sets. "That could deflate somebody, but the response they showed was really healthy, really mature."

"We just went into the locker room and regrouped," sophomore setter Tyler Lindgren said. "It's not a great feeling, so we were gonna do everything we could to not do that again. We had the first set; we had the taste of winning a set, and we knew what it would take to win the next two."

The Owls were without one of its top scorers, sophomore outside hitter Gem Grimshaw who was out due to illness. Temple relied on a balanced offensive attack.

Three Owls posted double-doubles. Lindgren led the team with 51 assists and 11 digs.

Junior outside hitter Katerina Papazoglou tallied 16 kills and 21 digs, and freshman outside hitter Naomi Janetzke racked up 16 kills and 14 assists. Sophomore right side hitter Peyton Boyd matched Papazoglou and Janetzke with 16 kills, as well as three block assists.

The team has experienced long streaks of wins and losses to start the season. The team hopes Friday's win can turn the tables, Lindgren said.

"When you lose a couple of games in a row, you sort of feel stuck and there's doubts," Lindgren said. "To pull out a win like that was really motivating. I think that's gonna spur for the next games."

After winning on Friday, the Owls were outmatched on Sunday at home by a Cincinnati team that leads the East division.

The Bearcats were led by two-time unanimous AAC player of the year, redshirt senior right side hitter, Jordan Thompson. The Bearcats won three consecutive sets by at least eight points in each set.

"We played against the best team in the conference, the best player in the conference, arguably in the country," Ganesharatnam said. "I think Cincinnati as a team performed at a pretty high level today, and that creates a lot of pressure on us. We were hoping to control the ball on our side a little bit better, but unfortunately we weren't able to do that on a consistent basis."

Thompson, who played for U.S. National Team this summer, finished with a team high 19 kills on 40 attempts for a .375 percentage. She also chipped in 10 digs.

"We spent a lot of time in practice looking at…where she likes to hit, so we'll move our block over here so that she has to hit somewhere else where she's not as comfortable" senior outside hitter Dana Westfield said. "Let's serve to her because then they'll be out system, it'll be harder to get set."

Still, the Bearcats' offense was effective, finishing with a hitting percentage of .301 compared to the Owls' .116.

"We just forgot that there were other people on the team," Westfield said. "When other people would hit we would kind of forget what we were supposed to do. When other people went to hit, they were so much more efficient than we expected."

Jenetzke, Grimshaw and sophomore outside hitter Miray Bolukbasi tied for the team high in kills with just five. The Owls strung together just 27 assists to the Bearcats' 45.

Despite Sunday's outcome, Ganesharatnam is pleased with how his team played this weekend.

"I think we could have performed at a better level, but overall the weekend was a positive for us," Ganesharatnam said. "We did some really good things, especially on Friday, that really showed the hard work the team put in throughout the week. We're gonna address some of the things we could have done better today, but we're not gonna invest too much time here."

Next weekend, Temple heads south to take on Southern Methodist on Friday and Memphis on Sunday.