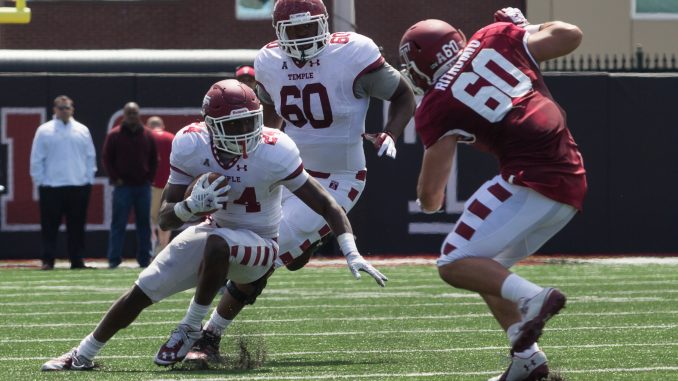 The Cherry & White game's first touchdown was scored by the smallest person on the field on Saturday.
Four-year-old Leah Still, whose cancer is currently in remission, caught a pass from junior quarterback P.J. Walker on the first play from scrimmage and ran to the end zone with an escort from the White team.
Still also participated in the opening coin toss before the game with her father, Cincinnati Bengals defensive lineman Devon Still.
Still's touchdown gave the White team an early lead – one they would not relinquish – on its way to a 43-23 win over the Cherry team.
The White team was led by Walker, who completed 7-of-13 passes for 99 yards and two touchdowns. It was a stark contrast from last year's Cherry & White game, where Walker completed less than 50 percent of his passes and threw two interceptions.
"I thought P.J. looked sharp for a spring game," Rhule said. "He hit the deep ball, hit some other throws … he made good checks, got us in the right plays and didn't turn the football over … I thought P.J. played well."
Temple's passing offense ranked 86th in Division I last year and will be looking to replace the production of Jalen Fitzpatrick, who caught 53 passes for 730 yards and six touchdowns.
Rhule said he was impressed with redshirt-freshman tight end Kip Patton and redshirt-junior wide receiver Romond Deloatch, who combined for 98 yards and two touchdowns.
"Romond has all the physical talents in the world," Rhule said. "We are just trying to get him to not think of himself as a one-trick pony. We want him to do more and he's been hesitant to do things exactly the way we wanted. He's been growing up."
Last season Walker threw 13 touchdowns and only two were longer than 40 yards. Rhule said the passing attack has the potential to produce more big plays this season.
"As long as we can protect it, we know we have some guys who can get down the field … we have some big guys who can go up and get the ball," Rhule said.
Walker and the offense were helped by a run game that averaged five yards per carry. Redshirt-sophomores Zaire Williams and Roy Wesley combined for 80 yards rushing and one touchdown. Last season, the Owls ranked 115th in Divison I with 107.8 per game.
"I felt good about it," Williams said. "It's a good thing to get back on the field after missing the whole season. I was anxious, but I still kept my head and was ready to go."
A new face that stood out at the Cherry & White game was freshman defensive back Kareem Ali. The four-star recruit, according to Rivals.com, forced the lone turnover for the Cherry squad and totaled two tackles.
"He is a gamer," Rhule said. "He's got a long way to go, just in terms of development. He is so far ahead of where he would have been. He's smart and I think he will be ready to go."
The Sicklerville, New Jersey native, who has been on campus since January, has been able to work out and practice with the team this spring. The extra work, Ali said, have allowed him to feel more comfortable with his new team.
"Me coming early definitely gave me a head start and I'm thankful for that," Ali said. "I really didn't want to come early. I was worried about it. But now the worries are gone and I'm thankful for that."
Another standout for the Cherry squad was redshirt-freshman Jyquis Thomas, who totaled six tackles on his way to being named Temple's most improved defensive player. Rhule said the Plant City, Florida native has the potential to be as good as former Owl and current New York Jet Jaiquawn Jarrett.
"Jyquis is a really talented kid," Rhule said. "He's got some great seniors, so he can learn under them while he develops. He has tremendous physical tools.
An area that wasn't positive for Temple last year was the kicking game. The Owls went 15 for 24 on field goal attempts last season, with 10 of those kicks coming from less than 40 yards out.
"No one stepped up and made all the kicks, which is what we are looking for. So some guys have good days and bad days. We are still not where we want to be there, which is a concern."
The Owls will open up their season on Sept. 2 when they welcome Penn State to Lincoln Financial Field.
Michael Guise can be reached at michael.guise@temple.edu or on Twitter @Michael_Guise.