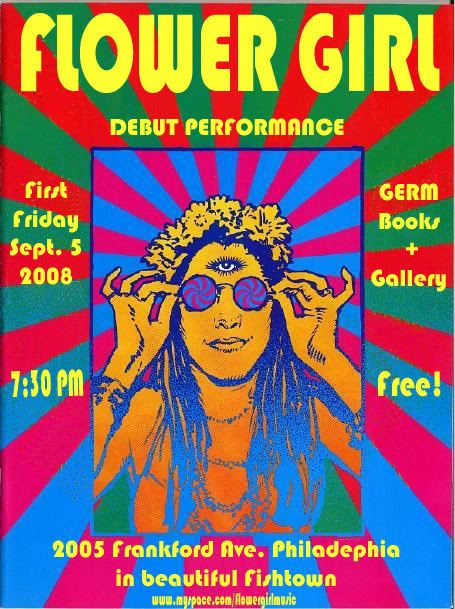 False Identity
The name "Flower Girl" is misleading. Although the band does borrow its psychedelic vibe from '60s bands, it doesn't sound anything like Grateful Dead or Jefferson Airplane. Instead, Flower Girl plays spacey, guitar-heavy music that sounds more like Philly natives Bardo Pond or Birds of Maya. The band has been preparing for this gig for a long time: despite being together for four years and recording three CDs, this is their first performance. Perhaps it's because their guitarist John Malloy has been up to other things—making art, specifically. His paintings are hanging at Germ Books, which is where the band will also be making their debut performance.
Fri., Sept. 5, 7:30 p.m., free, Germ Books and Gallery, 2005 Frankford Ave., www.germbooks.com
Disco Boogie
Disco Descending is the story of a group of forty-somethings who are grieving the recent death of a friend. It is based on the myth of Orpheus and Eurydice, a classic love story that explores man's desire to escape death. The play, which is part of the Live Arts Festival, is given a fresh twist: it's performed with a disco soundtrack. It's also a sequel to director Karen Getz's 2006 hit, Suburban Love Songs. "My company had created these characters that were so beautiful, and so alive, and so three-dimensional that I didn't just want to leave them alone at their late 30s," Getz said.
Wed., Sept. 3-7, 7 p.m., $25, Suzanne Roberts Theater, 480 S. Broad St., www.livearts-fringe.org
Mind Reader
Marc Salem is an expert at non-verbal communication. He holds degrees from both the University of Pennsylvania and New York University in the field, and he'll prove it you by reading your mind—or making it seem that way. Salem engages his audience in a series of mesmerizing mind games, using techniques such as observation and interpretation of body language. Don't buy it? He's got 20 years of experience to back up his act.
Mon., Sept. 8, 7 p.m., $45, Prince Music Theater, 1412 Chestnut St., www.marcsalem.com
Lydia Kanthak can be reached at lydia.kanthak@temple.edu.