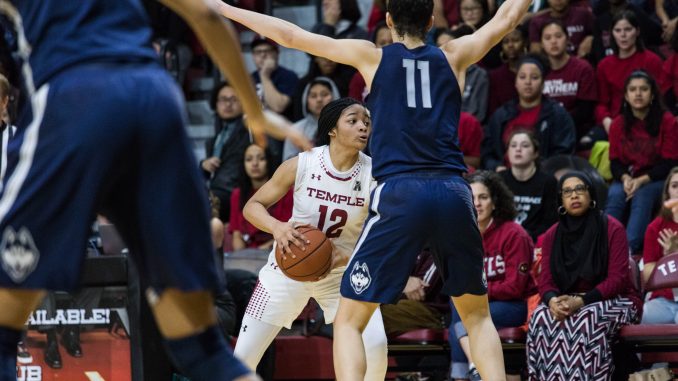 The sun shone brightly through the windows of the Pearson Hall practice facility on Friday afternoon. Junior guard Deja Reynolds was in the gym getting up shots. It was just her, the rebounding machine and the hoop.
"One more. I got to get one more," Reynolds said before running down to McGonigle Hall to meet teammates for practice.
Though the hardwood gleamed from the sun, offense hasn't necessarily been a bright spot for Temple (9-9, 1-5 American Athletic Conference) this year.
Eighteen games into the season, only three players have attempted more than 100 field goals. By comparison, South Florida — the second-place team in The American — has four players with at least 100 attempts and another with 97.
Coach Tonya Cardoza said being more involved offensively is something everybody on the team is going to have to learn on their own.
"One game they can shoot well and score double figures," Cardoza said. "The next game they might, for whatever reason, not look to be as aggressive. The more people we have just being aggressive and going out and playing, the better we are as a team."
In 17 games, Reynolds has only attempted 62 field goals despite showing the ability to score. She contributed a career-high 12 points against St. Joseph's on Nov. 29. Reynolds made four of five field goal attempts against the Hawks, however, she hasn't reached double figures in scoring since. Reynolds has shot the ball five or more times in just four of the 10 games since playing St. Joseph's.
Senior guard Tanaya Atkinson leads the Owls offensively, averaging 22.6 points per game. She is shooting 49.2 percent on 295 field goal attempts. Besides Atkinson, freshmen Mia Davis and Emani Mayo are the other two players who have taken at least 100 shots.
"People have to be more aggressive," Mayo said. "The shots you don't take, you won't know. If you keep shooting, you'll make shots."
Not only is the team seeking offensive contribution from other players, Temple also lacks offensive efficiency. The Owls are shooting just 39.3 percent from the floor. Atkinson and Davis are the only two players on the team with at least 50 field goal attempts to average more than 40 percent shooting.
Although Mayo is making an effort to be more involved on offense, her shooting numbers have not always been consistent. Mayo scored 14 points and shot 42.9 percent against Houston on Jan. 16. The preceding game against Cincinnati, however, she shot 18.2 percent for five points.
Mayo said she has been working on her pull-up jump shot, because she feels it is a more consistent shot rather than resorting to floaters over taller defenders in the lane. Mayo has shot less than 35 percent from the field in 10 games this season, but she intends to remain involved in the offense. Atkinson said she had a similar aggressive mindset as a freshman.
"When I first came here, the biggest thing I needed to have was confidence," Atkinson said. "I don't want to say people are still nervous, but people just don't want to make mistakes. I had to know that I was going to make mistakes. I feel like having that mentality you go out there and play as hard as you can no matter what. That's what I'm trying to do with them and tell them my experience."
Atkinson averaged 10.6 points per game as a freshman and has been a consistent offensive asset for the Owls each season. She moved into fourth place on Temple's all-time scoring list after Sunday's game against UConn. With Atkinson being just one of the two active seniors on the roster, she is trying to give her teammates confidence whether they win or lose.
Temple has lost six of its past seven games and ranks ninth in The American in field goal percentage and eighth in field goals attempted. In their recent six losses, the Owls have shot 37.8 percent from the field. They shot 40 percent or better in three of the six games, including a 46.4 percent outing against Houston on Jan. 16.
"I feel like we're going to end up turning this around," Atkinson said. "We don't really have a good record right now, but we have a lot of young guys. … I just think we need to focus on being aggressive."