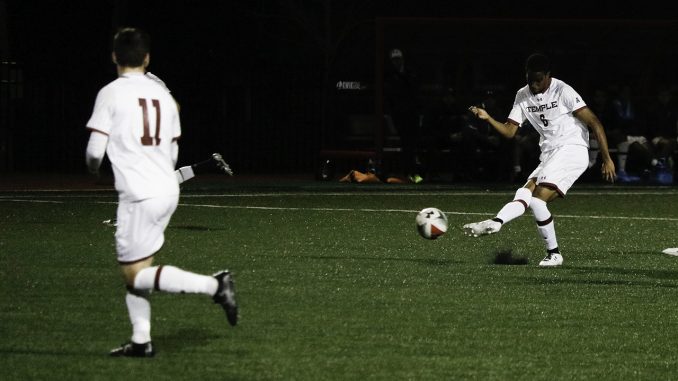 It took a little while for the Owls to get their footing Wednesday night, both literally and figuratively.

While playing their fourth consecutive away game, the Owls had to get used to playing on Rider University's field, a different surface from their games thus far. Similarly, it also took Temple some time to get comfortable in the game itself against the Broncs.

"I think that we showed a little bit of fatigue at times in the game, but certainly, as the game went on, I thought we were controlling the tempo, and eventually, we'd find a breakthrough," coach Brian Rowland said.

Even though the breakthrough didn't occur in regulation, the Owls (2-2-0) found a way to score in overtime. Temple defeated Rider 1-0 off a goal from freshman midfielder Jalen Campbell in the 94th minute in New Jersey on Wednesday night despite a slow first half.

In the first 45 minutes of the game, Temple allowed eight shots, with three on target by the Broncs. Meanwhile, the Owls managed just two shots. The Owls also generated just one corner kick to Rider's five.

However, entering the second half with an even score, Temple found its rhythm and held the Broncs to no shots in the second half and overtime.

"I think we were on the front foot for most of the second half, once we settled into the game a little bit," Rowland said. "We can certainly play and stay in our attacking mode, and when we don't have the ball, we're becoming a pretty connected defensive group."

Junior goalkeeper Simon Lefebvre had a calmer second half after making three saves, all in the first half. Lefebvre earned his first shutout of the season and Temple picked up its second shutout.

Temple's possession-heavy second half and overtime paved the way for the game-winner, which come off the boot of Campbell for his first of the season. Campbell also recorded two of Temple's four shots, both of which were on target.

"Jalen's been really, really good for us so far this season, so for him to pop up and get a goal, I think is well deserved," Rowland said. "He does have that ability to score some goals and we'll look to him to continue to find opportunities to get in the box and create more chances."

This Saturday, Sept. 8, the Owls play at home for the first time this season. Temple will take on St. John's University at the Temple Sports Complex. Rowland said the team is looking forward to experiencing a game at home.

"We're excited to play in front of our fans and the community and be at our place," Rowland said. "I think it will be great to get some energy from the crowd and hopefully we can get a good turnout and put on a good performance."