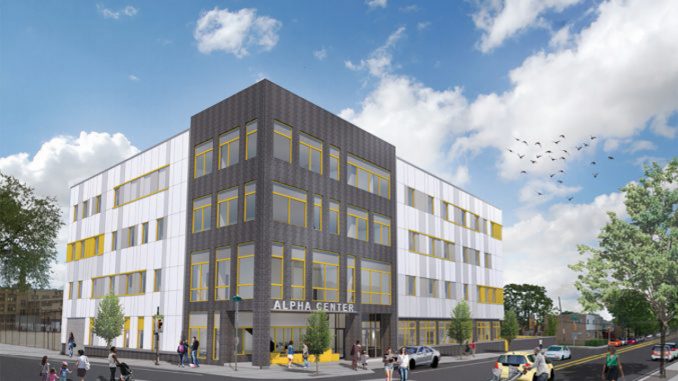 Philadelphia City Council withdrew the proposal to build Temple University's Alpha Center, a multipurpose community center on Diamond Street near 13th, at a recent meeting.
The decision effectively halts City Council's deliberations on the university's plans to build the center, which would provide dental care, behavioral health and childcare services through the College of Education. The bill to alter the university's master plan must now be reintroduced in City Council to move forward.
Some community residents and leaders believe the Alpha Center could bring economic development and needed services to North Philadelphia. Jamorrow Roberts, who lives on Sydenham and York streets, said the Alpha Center has the potential to employ Temple community members.
"I think a lot of people think the Alpha Center wouldn't help the community, but I think it would really create jobs," Roberts said. "Some people think about the traffic and the trash but I think it's a win because it creates jobs." 
City Council President and 5th District Councilman Darrell Clarke said in an interview with The Temple News that the university needs to rework its relationship with the community before reintroducing the bill. 
North Philadelphia community residents have expressed distrust in the university to do proper outreach before moving forward on development of the center. Some residents believe this facility is connected to the university's proposed on-campus stadium, too. 
"Temple had a proposal, the Alpha Center, that conceptually I think is noteworthy in terms of its proposed services," Clarke said. "Again, [it's] Temple's inability to have a community-related approach to dealing with the people in the local community.
"[Temple is] driven based on need, not on long-term relationships," he added.  
However, Donna Richardson, president of the Norris Community Resident Council, which serves residents of the housing community near Main Campus, said the Alpha Center proposal has good intentions. 
"No one does everything right, but I do believe that Temple is trying to make a difference," Richardson said. "It may not be that well planned until you put it up, but then you tweak it. You don't know for sure it will work, but you have to try it out."
Among the many services the Alpha Center would offer, Richardson emphasized the necessity of a dental facility in the community.
"Show me the nearest dentist office," she said. "Temple is offering a dental facility that would help people…right here where you can walk to the dental office instead of trying to lug two, three, four children all that way."
Gregory Bonaparte, a trustee at Berean Presbyterian Church at Broad and Diamond streets and a general mechanic for University Housing and Residential Life, is a longtime resident of North Philadelphia. He said the Alpha Center could bring benefits to the community. 
"I believe the Alpha Center could help and partner with my church," Bonaparte said. "We used to have a daycare, but that's been gone years ago."
North Philadelphia currently lacks enough childcare facilities for its children. According to the 2017 update to the Fund for Reinvestment's childcare report for the city, the Temple community east of Broad Street where the Alpha Center was proposed saw "no meaningful change" or a "modest decline" in its supply of high-quality, certified childcare facilities since 2014.
For Richardson, this makes the Alpha Center all the more necessary to North Philadelphia, and would not lead to the closure of existing daycare centers.
"I don't see daycare centers closing unless people stop having kids," Richardson said. "Kids will always come and we'll always need space to put them. Temple has not always done enough for the community, but now they're opening up and trying to reach different avenues that they felt they have been weaker in so that people can get the same opportunities as everyone else."
In April, Gregory Anderson, the dean of the College of Education, said the Alpha Center would not affect existing childcare facilities. 
Still, many residents see the construction of the Alpha Center as part of the larger issue of gentrification in the area around Main Campus. Bonaparte said much of the resistance to the Alpha Center is part of a broader lack of communication between the university and the community. 
"The university could reach out to more people in the community," Bonaparte said. "Temple has to show them that they are a good neighbor to North Philadelphia. When you can offer this neighborhood something monumental, you have to get our trust back."
"I don't see gentrification coming, I see it here," Richardson said. "So, now that it's here, how do you make sure that the people in this community are able to sustain and be able to function and live in it without having to be moved out?" 
Bonaparte believes that in order to thrive, residents will need to consider the options Temple gives them. For him, a good place to start is the Alpha Center. 
"When Temple says they want to build something with resources and opportunities for young people, then we need to take a look at that," Bonaparte said. "We need to stop being against whatever Temple does."
With projects like the on-campus stadium, many community residents distrust the university's development in North Philadelphia, but Richardson said there is a way to navigate the currents of development.
"If we do right, we'll climb that ladder," she said. "That makes it so we're able to survive and swim in the deep waters too, and not just keep getting our feet wet." 
---
Editor's note: Alex Mark is secretary for Temple Student Government.