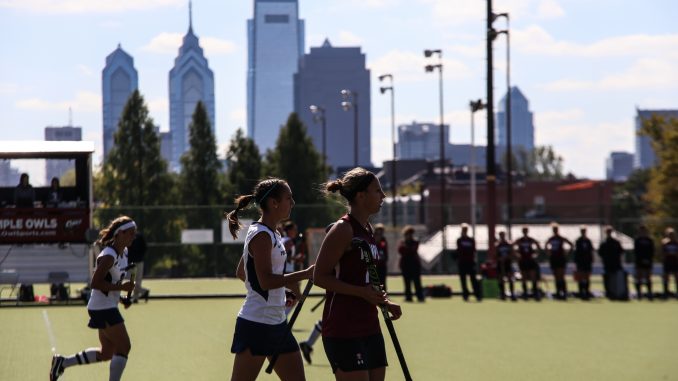 On Feb. 9 of last winter, Amanda Janney's resignation left the Temple field hockey head coaching position vacant, instantly putting the leadership of the nationally ranked program into question.
The decision made by the 10-year coach to leave for Indiana University left the athletic department scrambling, looking for a replacement to step in during the critical spring season.
One month later, a decision was made.
After seeing the job posting online, Marybeth Freeman, a five-time NCAA Division I champion as a player and coach, applied. It took two interviews – one on campus – to convince the athletic department that Freeman was the right fit to replace Janney.
"To be honest, I would not have gone after this position if I didn't want it 100 percent," Freeman said. "I was really thrilled that the committee, everyone I saw, and the community here at Temple was so welcoming and embracing. Once I walked on campus and felt that, I knew it was the right place for me to continue my career and obviously to get Temple in the highest possible ranking in the NCAA."
Formerly the head coach of Columbia University, Freeman was named Ivy League Coach of the Year in 2014, her fifth and final year at the school, and led the Lions to 12 wins, tying for the second-most in school history. Before her Columbia position, Freeman was an assistant coach and associate coach at the University of Maryland, where she won three national championships in seven years.
"It was the opportunity to win, the resources this program has, and the group of players returning that made me want to come here," Freeman said. "These women have a certain willingness and passion, and Temple is a great program."
Freeman will start her first season at Temple with a program that has been nationally ranked for the past two years and finished last season ranked 14th in the final National Field Hockey Coaches Association poll.
"I think that the power of the mind and the willingness to do the work is a very powerful thing, and these women that we're working with are very driven; they're very focused; and they're very determined," Freeman said. "With the new philosophies that we're trying to instill, the work ethic that these women have, and their dedication to being successful, I foresee a lot of winning in our future."
Freeman, an Old Dominion University graduate, said she was in North Philadelphia working with the team at spring practices not long after she was hired in March.
"In previous years, the foundation was laid, but the point of emphasis and the focal points were different this year than in the past," Freeman said. "We're not looking to change too much, but we made sure the detail was more finite in the spring."
Looking to improve a team that went 14-7 and reached the finals of the Big East Tournament last season, each player was given her own summer training packet that emphasizes strength and conditioning in different phases.
The squad will also have to move on without 2014 Big East Player of the Year Amber Youtz, who graduated last year after totaling 165 career points and 69 career goals. However, Freeman said she believes the Owls can replace Youtz presence with a collective team effort.
"Amber was a great player and her loss is big, but it's transitional," Freeman said. "Everyone on this team can bring different things and that's what we want. Younger players can step up and be more impactful. Every team loses players, but on this team everyone has a role."
The Owls will report to training camp on Aug. 11 and will begin practice the next day. Freeman said the team will still have a lot of work to do to prepare for its challenging schedule, which includes six matchups with nationally-ranked foes.
"One of the things that I was asked in my interview was 'Why Temple?'," Freeman said. "And I said 'Because I want to win'. I definitely would not be here if I didn't think that was possible."
Matt Cockayne can be reached at matt.cockayne@temple.edu or on Twitter @mattcockayne55.