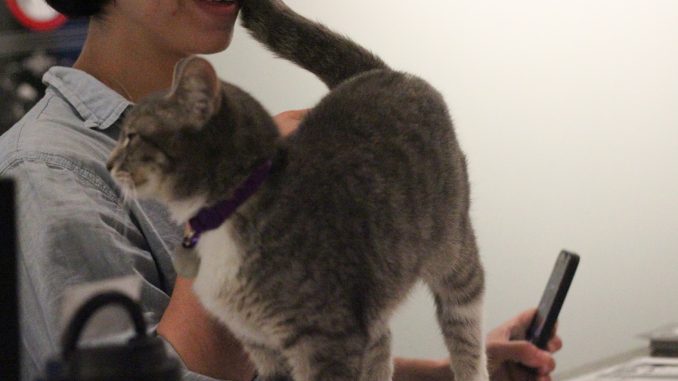 Instead of the usual sounds of grinding espresso machines and baristas calling out coffee orders, Le Cat Café at 2713 W. Girard Ave. in Brewerytown is filled with meows and pattering paws.
The Parisian-themed cat cafe, fostering up to 12 cats at a time, is the first of its kind in Philadelphia. According to its website, the nonprofit seeks to "encourage and facilitate adoption of rescue cats, and provide cat companionship to those who may not be able to adopt."
"There's such a cat overpopulation problem in the city," said the cafe's owner Kathy Jordan. Jordan is the president of Green Street Rescue, a nonprofit focused on rescuing stray cats and finding adoptions for friendly rescues.
Jordan said she opened the cafe to create a better adoption platform for rescued cats.
"The problem is not finding cats to rescue, but fostering them and finding them a home," she said.
Laws in Philadelphia only allow a total of 12 dogs or cats per household, which prohibits people like Jordan from rescuing more than that number.
Jordan said there's a need to showcase adoptable cats in a healthy, interactive environment. Adoption windows in stores and shelters allow for limited space and exercise, and photos on a website don't allow people to spend time with a potential pet.
At Le Cat Café, customers can enjoy a complimentary cup of coffee and play with the cats with provided toys. The cafe also hosts yoga and pilates classes, though the usual level of concentration and focus may be broken by the cats joining in.
The cafe holds senior citizen hours and storybook hours for elderly people and children respectively, to allow them to interact with the cats. Children are encouraged to read to the cats to build their reading confidence and help socialize the animals.
"We're trying to be a community center in addition to helping the cats and make it a fun place for people to be," Jordan said.
The first cat cafe opened in Taipei, Taiwan in 1998 and the idea spread to Japan. Now,  there are currently 150 around the country. The U.S. has more than 15.
Jordan "fell in love with the layout and idea" of a cat cafe after Purina created a pop-up cafe for three days in New York. She also participated in the annual adoption event, Petapalooza, in Mt. Airy.
"I like saving a cat from the street and giving it a chance to live," she said. "The idea grew on itself."
Jordan's full-time work as a financial consultant helps her with the cost of the cafe. The cafe is funded mostly through grants and donations, and accepts donated food and litter.
"The hardest part is not having enough time to dedicate to the cats," Jordan said. "It's trying to be in two places at once."
The employees at Le Cat Cafe work on a volunteer basis.
One of the volunteers, 1992 communications alumna Jennifer Celano, updates the website and writes newsletters for the cafe. She also owns cats herself, but does not have the time or resources to adopt more.
Celano said she enjoys spending time with the cats and observes all their different personalities.
Augie, a striped gray cat with green eyes, enjoys meeting people and insists upon being pet. Kinky Boots, a tortoiseshell named for the L-shaped bend in her tail, often perches on cabinets or nooks near the ceiling, snoozing or simply observing guests.
"Hearing some of their stories is so sad," Celano said. "My most favorite thing is taking them off the adoption site when they get adopted … I'm always excited when I get to do that."
Emily Hummel, currently a graduate student in religion at Temple, helps take out the trash, clean out litter boxes and supervises interactions between guests and the cats.
"I love cats and I can have one in my apartment, but I can't afford it," she said."I wanted to see more of the city and get out and explore Philly."
Jordan said despite time constraints, her work with Le Cat Café and Green Street Rescue is rewarding.
"It's knowing you're changing a life or making a difference … I just wanted to do something to give back," she said. "The stray cat in your backyard could look a lot better. Sometimes they just need a bit of TLC."
Lian Parsons can e reached at lian.parsons@temple.edu or on Twitter @Lian_Parsons.
Video by Linh Than.