Sara Argueta came to Bagel Hut for two things: a bacon, egg and cheese and to take a picture for her mom.
"My mom went here and my aunt went here at the same time and they used to eat here every morning and my mom was really pregnant," said Argueta, a sophomore international business major.
On Monday, students lined up outside Bagel Hut, which reopened on Aug. 21 after an extended closure due to construction for a nearby running water and sewage line. Students anticipated old favorites, first time orders and free coffee, which Bagel Hut provided on the first day of classes.
Bagel Hut is situated on Temple's Main Campus at Montgomery and Beasley, making it a convenient spot for students, faculty and staff to grab a quick meal or snack. Prior to the Fall 2021 semester, Bagel Hut was given a new structure during the expansion of Beasley's Walk.
"We are so excited to be back," wrote a Bagel Hut representative in a statement to The Temple News. "Thanks to Temple University and the community, including our students and employees"
Erin McHugh, a senior technical production and management major, remembers living in Morgan Hall during the peak of the COVID-19 pandemic and going to Bagel Hut with her roommate, who the Bagel Hut staff always recognized because of her distinct laugh.
"I used to live in Morgan during COVID and stuff, and my roommate has just like really ridiculous laugh, and so every time we'd walk down, we would always go to Bagel Hut and the guys would like put their head out like 'Oh my god, it's you,'" McHugh said.
McHugh's fond memories of the location brought her back to Bagel Hut on opening day. Unfortunately, the store was sold out of bagels by the time she placed her order.
Bagel Hut typically offers a range of bagel options, including plain, everything, sesame and more. Bagels can also be paired with various cream cheese spreads, deli meats, vegetables and other toppings to create custom-made sandwiches. The menu also features other breakfast items like breakfast sandwiches and coffee.
Bagel Hut's current specialty cream cheese is pumpkin spice. In the past, they have promoted cranberry cream cheese for the holidays and vanilla raisin walnut in February 2022.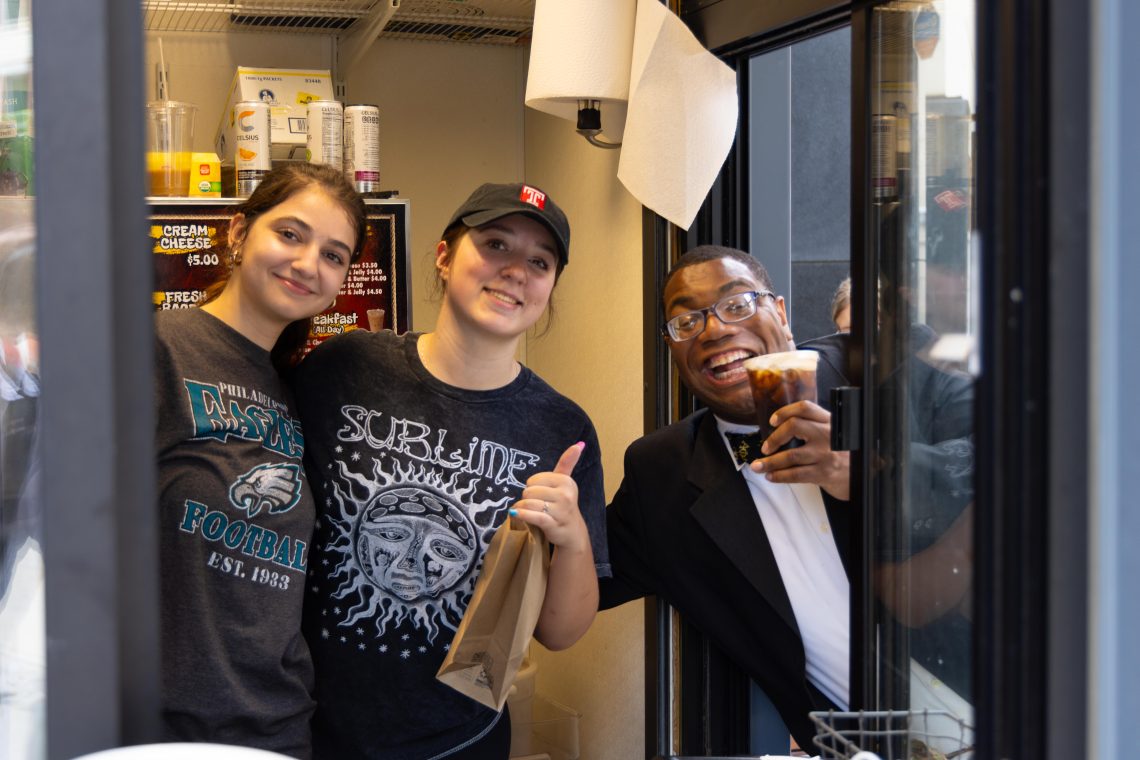 Jeanne Burge, a senior journalism major, ordered a french toast bagel with cream cheese.
"I brought some friends last week and one of them was their first time so yeah, definitely recommend," Burge said. 
Jamie Morris, a freshman undeclared major, was reluctant to try Bagel Hut because she thought its popularity was due to the shop's convenient location rather than the food quality.
After researching Bagel Hut's reviews online, Morris decided to give it a try between classes on her first day.
"I've been meaning to try it, and right now it's just the perfect time because I have been in class since 10 a.m.," Morris said.
Morris ordered a sausage, egg and cheese sandwich on an everything bagel and looks forward to continue patronizing Bagel Hut throughout her time at Temple.