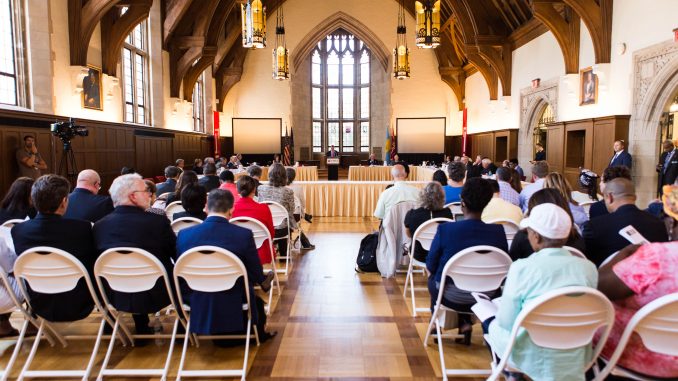 On Tuesday, the Board of Trustees approved more than 30 action items, including updates to university facilities and approving its newest trustee.   
The Board elected alumna Marina Kats. Kats, a 1985 business administration and management alumna, graduated from the Beasley School of Law in 1988. She then founded the Kats, Jamison and Associates law firm, which has offices in Pennsylvania, New Jersey and New York.
ON-CAMPUS FACILITIES
The university opened naming opportunities for the Fox School of Business' expansion into 1810 Liacouras Walk. The cost to rename the whole building, excluding the skybridge, is $10 million. Its $1.25 million to rename the bridge. Other naming opportunities in the six-floor building range from $500,000 to rename a business writing center, to $25,000 to rename faculty offices.
The Board also approved nearly $850,000 for the university's project to open a retail computer store featuring Apple products and logos, per preliminary designs. The new store will be operated by the university and housed at the former rock climbing wall in Pearson and McGonigle halls.
The former rock climbing wall will be taken down and replaced so students can purchase electronics at "educational pricing" and access on-site repair services, according to university records. The university hopes adding this computer store will benefit schools and colleges by allowing them to petition for mandatory electronic requirements.
Funds for changes to residence halls were also approved. The whole interior of the four-year-old Morgan North Residence Hall will be repainted for nearly $850,000, per the Board's approval on Tuesday.
The Board of Trustees also approved $300,000 for pre-construction services for the renovation of Johnson and Hardwick cafeteria. In a committee meeting on Monday, members said the renovation is expected to start in Summer 2019 and cost between $6 to $8 million total. Aramark and University Housing and Residential Life are expected to provide part of the funding.
Despite continued on-campus infrastructure improvements, Dean of the College of Science and Technology Michael Klein pleaded to the Board for funding for CST facilities. Klein asked the trustees to support CST by ensuring $25 million in investments is approved to update its facilities — some of which date back to the 1960s, he added.
He discussed the college's rankings and community engagement projects, one of which he said the college leveraged more than $1 million from "external support." He also noted that he has hired more than 40 top-tier CST faculty members since becoming dean of the school in 2012.
CURRICULA ADJUSTMENTS
Curricula across four schools and colleges were terminated or reorganized at Tuesday's meeting. These changes include:
College of Engineering

The bachelor's degree in engineering technology in construction management technology was renamed the bachelor's degree in construction engineering technology.

Fox School of Business

A master's degree in strategic advertising and marketing will be created.

The master's of business administration program will add concentrations in sport business, travel and tourism, management consulting and international consulting.

College of Education

The doctorate degree and educational specialist degree in school psychology will be restructured.

The urban school leadership master's program will be restructured and an optional concentration in principal leadership will be established.

The master's of science in education will be terminated.

School of Sport, Tourism and Hospitality Management

The master's degree in tourism and hospitality management will be terminated.

A master's degree in hospitality management with concentrations in tourism and hospitality marketing, hospitality operations management and event management will be established.

College of Public Health

Within the kinesiology bachelor's program, the concentration for physical and health education teacher education will be terminated.
RECOGNIZING STUDENTS AND FACULTY MEMBERS
The Board also acknowledged students and faculty members' accomplishments during Fall 2017 at the meeting. Hazim Hardeman, the university's first Rhodes Scholar, received a resolution of appreciation from the Board on Tuesday, along with University of South Carolina women's basketball coach and former Temple women's basketball coach Dawn Staley.
"Hazim's experience embodies the potential of North Philadelphians," President Richard Englert said at the meeting.
Hardeman, who grew up on 23 Street near Diamond, accepted the resolution and spoke about his struggles to become a Rhodes Scholar, noting his 0.01 GPA as a high school senior.
He thanked the university's dual admission program, which allowed him to transfer from the Community College of Philadelphia in 2015.
"I hope that people take it from my story that it's not about ability, it's about circumstances," Hardeman told the trustees.
During his speech, Student Body President Tyrell Mann-Barnes asked for a moment of silence at the meeting to remember the five students who died suddenly this semester. Jenna Burleigh, Richard Dalcourt, Cariann Hithon, Michael Paytas and James Orlando died in the span of 14 weeks.
He also discussed Temple Student Government's events and programs during this semester, including student engagement in its Sexual Assault Prevention Week and Peer Mentorship Program.