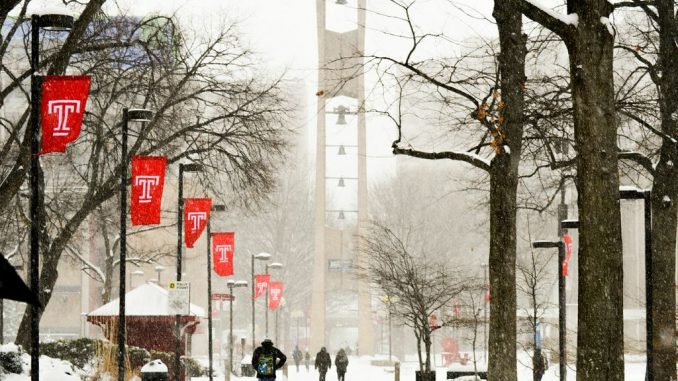 For first time since 2010, officials canceled classes and closed down the university in response to heavy snow last Tuesday, Jan. 21 and Wednesday, Jan. 22, a significant disruption in classes during the first week of the spring semester.
Main Campus had received 11 inches of snow by Wednesday afternoon, according to the National Weather Service. Philadelphia International Airport recorded 13.5 inches of snow and the Office of Emergency Management reported 14 inches. Elsewhere in the region, snowfall totals were reported as high as 14.8 inches in Brookhaven, Delaware County.
Mayor Nutter declared a snow emergency in Philadelphia beginning at 4 p.m. on Tuesday that was lifted at 6 p.m. on Wednesday to allow crews time to finish the snow removal throughout the day. Temple canceled classes beginning at 1 p.m. Tuesday. Originally, officials sent out an alert Tuesday night that there would be a delayed start at 11 a.m. the next day. That was changed to a full cancellation the following morning.
Temple last closed the university on Jan. 3, however no classes were affected due to winter break. The last time classes were canceled was in 2012, when the university closed down for two days during Superstorm Sandy. Temple canceled classes in February 2010 due to snow. In February 2011, the university remained open despite 15 inches of snow falling in Philadelphia.
Jim Creedon, the senior vice president for construction, facilities and operations said a team of administrators, including representatives from facilities, operations, communications and all the regional campuses began monitoring the storm through AccuWeather several days beforehand. The team met via teleconference on Monday, Jan. 20, and determined that a decision would be made the next morning.
Creedon said the decision to cancel the remainder of Tuesday classes was made around 11:30 a.m. and after a "sluggish" start to the new MIR3 notification system, all students and faculty were alerted after a 10 to 15 minute delay.
Around 8 p.m. Tuesday, Creedon said a determination was made that crews could have campus walkways clear and open by 8 a.m. Wednesday, but administrators decided to delay classes till 11 a.m. to allow students more time to arrive on campus. Around 4 a.m. next morning, Creedon said more calls were made and the decision to cancel school was made by 6 a.m., partially to aid the city in responding to the snow.
"We saw the severe weather, saw the temperatures and the wind gusts [and decided to close]," Creedon said.
Creedon said the university would conduct an After Action Review of its handling of the school closures and its preparations for the storm.
One problem Creedon said he noticed was slow service on the Regional Rail lines leaving Temple.
"I think we learned a lot about the situation on the train platform," said Creedon, who was also stuck waiting for a train. He said he also saw a lot of students underdressed for the weather.
Off-campus, residents of the 1600 block of Willington Street were left without power Wednesday night, as temperatures dipped below 10 degrees, after a transformer blew up and lit the telephone pole on fire. Videos of the incident recorded on camera phones show students on the block scurrying back as the flames reached across the street. No students were hurt and no homes caught fire.
PECO crews arrived shortly after midnight to fix the transformer, but another explosion around 4 a.m. prolonged the outage well into Thursday.
Other students in the area were forced to wait out the storm in a variety of ways.
"I was stranded [on Main Campus] for two nights, so I was just sleeping on the floor of people's houses," said Rachel Lee, a senior English major who lives in South Philadelphia. "I felt like they canceled classes maybe like an hour before [they started], and it seemed like it didn't lessen the problem."
"First I went to the gym, because that was the only place that was open and then I went home, then Maxi's was the only other place open so I went there for lunch and just hung out there," Genna Pyles, a sophomore tourism and hospitality management major, said.
John Moritz can also be reached at john.moritz@temple.edu or on Twitter @JCMoritzTU.