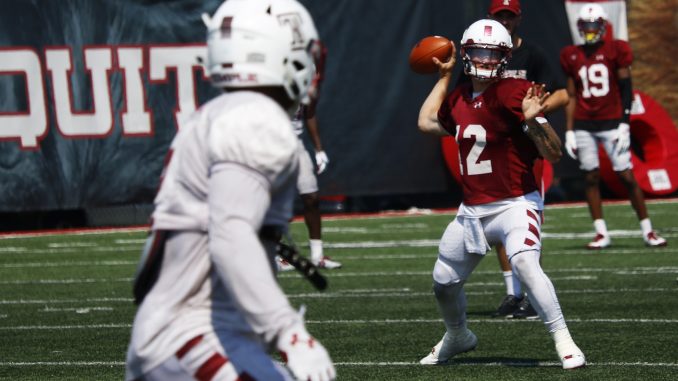 Howard University traveled to face the University of Nevada Las Vegas as 45-point underdogs on Saturday.
Liberty University traveled to Waco, Texas as 35-point underdogs against Baylor University.
Villanova will visit Lincoln Financial Field on Saturday with just a 24.2 percent chance of beating the Owls, according to ESPN's Football Power Index.
The Wildcats will be looking to do what fellow Football Championship Series schools Howard and Liberty did in Week 1 by upsetting a Football Bowl Subdivision team.
After Baylor's loss to Liberty — the fifth-largest point-spread upset since 2007 according to BetLabSports.com — Bears sophomore defensive lineman Bravvion Roy told reporters his team "came into the game taking [the Flames] too lightly." Coach Geoff Collins doesn't want his team getting complacent.
"We have a standard of performance that we go about every single day," Collins said. "It's regardless of if we're playing the Green Bay Packers or whoever we're playing. We're going to have our same standard and level of performance."
Saturday's matchup will be the first between Temple and Villanova since 2012, when the Owls earned a 41-10 win. The schools faced each other to open the 2009, 2010, 2011 and 2012 seasons.
The Wildcats, ranked No. 8 in the FCS Coaches Poll, opened the 2017 season in Bethlehem, Pennsylvania against No. 17 Lehigh University. They rushed for 266 yards in a 38-35 win. Senior running back Matt Gudzak scored two touchdowns and amassed a career-high 142 yards. Junior quarterback Zach Bednarczyk threw for 209 yards and two touchdowns to go with 72 rushing yards and a score on the ground.
Redshirt-freshman defensive lineman Dan Archibong called Villanova a "run-heavy team" and said the Owls will "make a big emphasis on tackling this week."
Temple allowed 422 yards rushing, 9.6 yards per carry and five rushing touchdowns in Saturday's 49-16 loss to the University of Notre Dame in Indiana. The Fighting Irish recorded more rushing yards than Temple did total yards.
Notre Dame ran the ball 17 times on first-and-10 plays and gained 10 or more yards for a new first down on six occasions.
The Fighting Irish accumulated about 80 percent of their yardage on 17 "explosive" plays, Collins said.
"Anyone, any day is liable to have an off day or have an off game," said Wildcats junior running back Aaron Forbes, who ran for 44 yards against Lehigh. "So right now we're just focusing on our scheme and executing our plays to our best ability because at any day, any team can beat anybody. So you can't really expect them to play as bad as they did against Notre Dame against the run."
Saturday's game will be Villanova's 13th against an FBS team in as many seasons. The Wildcats have a 1-11 record in that stretch and have been outscored by their opponents 389-187. Their only win came in their 2009 season opener against Temple at Lincoln Financial Field. Villanova erased a 10-point fourth-quarter deficit and kicked a last-second field goal to earn the first of its 14 wins on the way to winning an FCS title.
The Wildcats nearly earned wins against FBS teams in 2015 when they lost by five to Connecticut after holding a halftime lead and in 2014 when they lost in double overtime to Syracuse University.
This year, not only does Villanova have a new coach in Mark Ferrante, but it will play an FBS school in Week 2 instead of Week 1. Unlike in past years, the Wildcats have game footage from the previous week to examine.
"We get to see their personnel," senior center and captain Matt Donoghue said. "Usually, we're coming out, we're not really sure. It was actually good in this case because they switched coaches. So we could see a little bit of what they're doing on defense, how they're lining up, their formations and everything. We got to see that against Notre Dame so that'll be pretty helpful."
"You get to be more relaxed, kind of get the first-game jitters out against a different team," Forbes said. "So I think this gives a better shot of beating the FBS school Temple."