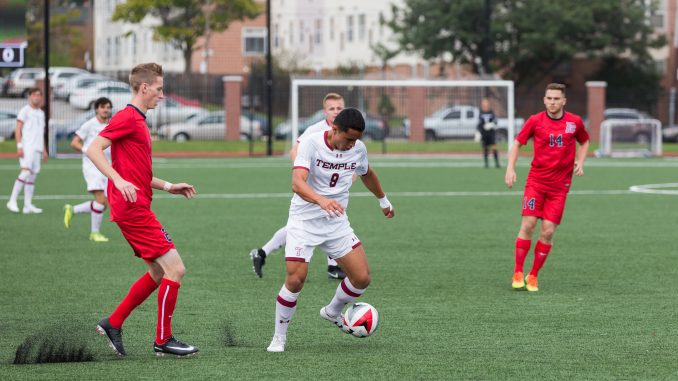 Mere seconds separated the Owls from victory.
But Memphis sophomore defender Mike Roberts' goal at the 89-minute, 51-second mark sent Saturday's game at the Mike Rose Soccer Complex into overtime.
Shortly after the start of double overtime, Temple freshman forward Alan Camacho Soto scored his second goal of the game to give the Owls (4-5-1, 1-1 American Athletic Conference)  a 2-1 victory.
"It was just a great game," coach David MacWilliams said. "But it was obviously a rollercoaster ride. Just a game with a lot of highs and lows, emotionally."
"I give the guys so much credit," MacWilliams added. "They could've easily given up on themselves and walked away with a tie or a loss, but they battled hard."
Camacho Soto gave the Owls the lead at the 62:01-mark when he converted a penalty-kick opportunity. He led the team with five shots and three shots on goal. Temple ended the night with 13 shots and five on goal.
"He's really coming up big for us," MacWilliams said of Camacho Soto. "He's playing exactly how we expected he would be. We were a little worried in the beginning because he was still adjusting, but I think he's really starting to find his way."
By earning an overtime win, Temple gets three points instead one in The American's standings. Higher point totals increase the likelihood Temple will make the conference tournament.
"Every conference game is important," MacWilliams said. "Of course we need to be winning at home, but I think we also need to be taking care of our away games, and I think it's great when we can get a win on the road."
Saturday's game entered the 102nd minute before Camacho Soto scored. Playing such a long game meant many of the players had tired legs as the match progressed.
Because Temple took a three-goal lead by the 53rd minute of its win against Penn State Wednesday night, some players received extra rest due to the Owls' comfortable lead.
Six Owls played the whole game. MacWilliams made substitutions for the other players as he saw fit.
Sophomore goalkeeper Michael Samnik started his second consecutive game and ended the night with one save on 10 shots, two of which were on target.
The Owls' next game is a nonconference contest against Philadelphia Soccer Six opponent Drexel University on Tuesday at the Temple Sports Complex.
"We have a lot of depth on this team," MacWilliams said. "I think it gives us the opportunity to use different guys on different nights, especially since we are starting to get production from a lot of different people."