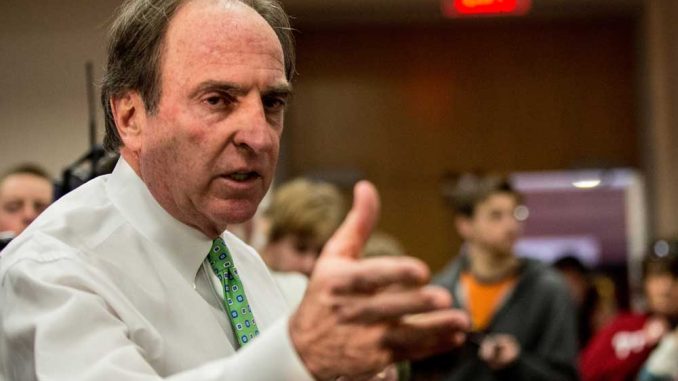 With the recent release of the preliminary men's basketball schedule for the upcoming 2013-14 season, Temple has a fair idea of the competition it can expect in the team's inaugural year in The American Athletic Conference.
Including two games against defending National Champion Louisville, the Owls has what is, on paper, a more difficult schedule than they've had in past seasons. Entering his eighth year as head coach, Fran Dunphy said the challenge is a good thing.
"I think, each year, because of Coach [John] Chaney and his philosophy, Temple has played as tough a non-conference schedule as you possibly can," Dunphy said. "I think we've worked hard to have that same philosophy since I have taken over the position."
"But we also had a similar philosophy when I was coaching at Penn as well," Dunphy added. "We wanted to play the best possible teams. So this year is no exception. I've heard people say this is as difficult a full schedule as Temple has ever played. But that's what we have in front of us and we'll look forward to the phenomenal competition that we are expecting."
The Owls will open their season with a Big 5 matchup against Pennsylvania, which will be held Nov. 9 at the Palestra. In his seven years with Temple, Dunphy has garnered a 6-1 record against his former team. Other Big 5 competition will include a road game at La Salle, while Temple will host Saint Joseph's on Dec. 4 and Villanova on a date to be determined.
The home opener at the Liacouras Center is set for Nov. 11 against Kent State.  Temple will also host Texas at the Wells Fargo Center on Dec. 7, in addition to traveling to Charleston, S.C. for the Charleston Classic during the weekend before Thanksgiving. Other competition includes Towson, Texas Southern and Long Island.
In The American, Temple will play home and away matchups against each school: Cincinnati, Central Florida, Connecticut, Houston, Memphis, Rutgers, Southern Methodist, South Florida and Louisville.
"You have so much respect for every team that you play, whether they are ranked like a Louisville, or another team that isn't so highly ranked," Dunphy said. "But you still have to prepare and try to win the game and do your very best to perform at the highest level."
Temple lost T.J. DiLeo, Rahlir Hollis-Jefferson, Jake O'Brien, Scootie Randall and Khalif Wyatt to graduation, which is an aspect of the roster that stands out, Dunphy said.
"We have to replace five guys who gave us a lot of minutes, a lot of point production, and a lot of really good basketball play," Dunphy said. "We're going to be inexperienced on some level, so we're going to have to count on guys like Dalton Pepper, Anthony Lee and Will Cummings—who have played a lot of minutes for us—and they'll have to pick up their game appreciably."
"But I like our team, and I like the makeup of it," Dunphy added. "I like our youth, and we're hopefully going to have a terrific season. But it's going to be a learning year for us for sure."
Avery Maehrer can be reached at avery.maehrer@temple.edu or on Twitter @AveryMaehrer.