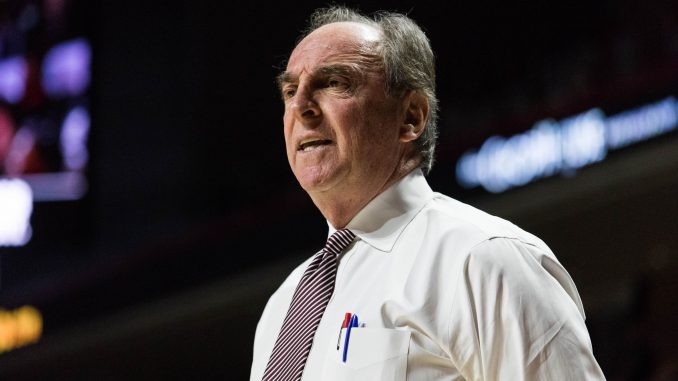 A comment coach Fran Dunphy made on Sunday caused a stir on social media.
In a conference call following the announcement of Temple's National Invitation Tournament matchup against Penn State on Wednesday at 8 p.m. in University Park, Pennsylvania, Dunphy said the Nittany Lions and coach Pat Chambers made a "special move" to recruit players from the Philadelphia area.
Penn State has seven players who went to high school in Southeastern Pennsylvania. Four of them went to Roman Catholic High School at Broad and Vine streets. Three of the Nittany Lions' top four scorers went to Roman Catholic.
Dunphy was asked why Penn State has finally been able to recruit kids from the Philly area recently. Here's what he said: pic.twitter.com/8Fg3DRbyKR

— Tom Ignudo (@TomIgnudo) March 12, 2018
Lions 247, a website that covers Penn State men's basketball, football and recruiting took it as Dunphy taking a shot at Chambers.
"Temple basketball coach Fran Dunphy may have provided Penn State with some extra motivation ahead of a first round NIT matchup between the schools on Wednesday," Jordan James wrote on Monday. "In an interview on Sunday, Dunphy seemed to take a shot at the recruiting practices of Nittany Lions head coach Patrick Chambers, who has a plethora of players from the Philadelphia area on his roster."
But it wasn't Dunphy's intention to take a shot at Chambers or the way Penn State recruits, according to a team spokesman. The spokesman added Dunphy's words were misinterpreted by many on social media.
Dunphy said through the university spokesperson that Penn State deserves a lot of credit for the way they have recruited the Philadelphia area.
This seems like legitimate shade being thrown, and I don't think I've ever seen Fran Dunphy ever say something like this before https://t.co/2yZLJefYBJ

— Varun Kumar (@vrkumar8) March 12, 2018
These comments from Temple coach Fran Dunphy on Pat Chambers' recruiting success in Philly are…uh…pretty interesting. https://t.co/Z9kHeAmVQW

— Vincent Lungaro (@VinceLungaro) March 12, 2018
This long-rumored accusation was why I was excited for this Temple game, but I didn't expect Fran to take it public. https://t.co/f1l5M0gewa

— Eric Gibson (@RLR_Eric) March 12, 2018
LOL can taste the salt from here https://t.co/51oY1V9TNP

— Dave (@Dave_K6) March 12, 2018
Temple and Penn State have faced off against each other 92 times. The Owls lead the all-time series 60-32. The winner of Wednesday's game will advance to face either the University of Notre Dame or Hampton University.