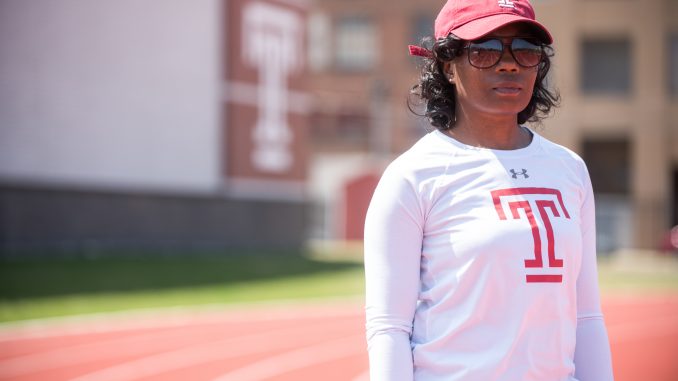 Ask assistant coach Tramaine Ellison what her number one asset as a coach is, and she'll tell you it's her knowledge of what it takes to be a Temple Owl.
Ellison is a 2004 kinesiology and exercise science alumna and former member of the track & field team and Air Force Reserves. She returned to her alma mater in August to help coach Elvis Forde build the program.
Ellison said she assists in every element on the track but focuses on jumps or multis. She also plays a pivotal role in the recruiting process.
"The biggest part of my recruiting package is that I am a product of Temple," Ellison said. "It also makes me very selective because I take a lot of pride in my university, and I don't think anyone should put on the cherry and white if they are not ready."
Ellison got the assistant coaching position because of her continued interest in the program, even after she graduated 13 years ago.
"I found out that the assistant who was here was leaving," Ellison said. "Next thing I know, I got a call from coach Forde asking why I hadn't applied for the position yet."
Prior to accepting the assistant coaching position at Temple, Ellison spent three seasons at Johnson C. Smith University in Charlotte, North Carolina. She also served as an assistant coach and massage therapist at Winston-Salem State University in the same state.
Ellison got a job coaching middle and high school students in North Carolina after she graduated from Temple. She spent six years coaching at Piedmont, Ardrey Kell, Independence and Western Guilford high schools, and credited that experience for honing her passion for coaching.
"Coaching middle school helped me with my ability to teach athletes the fundamentals," Ellison said. "When I started coaching at the high school level, a lot of those kids I had in middle school ended up on my high school team, so I felt like I must have had enough of an impact on them for them to continue the sport."
Ellison's coaching experience is now focused on helping the Owls progress as a program. She holds a Level V Elite Coach status by the International Association of Athletics Federation, which is the association's highest status. Ellison was selected to serve as a delegate for the National Association for College Admission Counseling Conference twice, and has traveled to the Dominican Republic and El Salvador.
She is excited to see how the Owls progress for the remainder of this year and into next season.
"We're bringing in very talented recruits next year," Ellison said. "It's very encouraging because when you actually get to hand-pick the athletes you want, it gives you a lot more hope of what the program can accomplish."
"I want to make sure our athletes understand what it takes to not only be a successful athlete, but to be successful at Temple," she added.
Addison Hunsicker can be reached at addison.hunsicker@temple.edu.