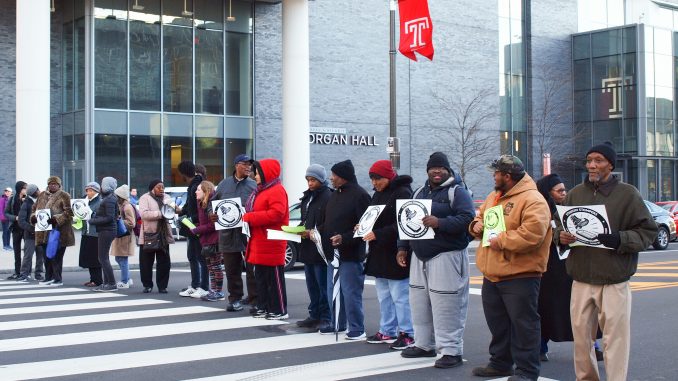 Conversation between Temple and the Stadium Stompers remain inactive after a meeting in late March between state Rep. Curtis Thomas, University President Richard Englert and the Stadium Stompers was postponed at the "last minute," Stadium Stompers members said.
The Stadium Stompers — a group of North Philadelphia residents and Temple students and faculty protesting the proposed on-campus football stadium — spent several weeks planning the meeting through Rep. Thomas' office to speak with Englert about plans for the stadium.
Mary Palmer, Thomas' executive assistant, relayed a message from Thomas that the meeting was postponed due to scheduling conflicts and is currently being rescheduled for a later date.
She added that the "primary persons" involved were not available to meet on March 24.
Jackie Wiggins, a Stadium Stompers leader who lives on Page Street near 19th, said the community outreach specialist for Thomas' office, Charlotte Greer-Brown, attended a Stadium Stompers meeting in March "excited" because there was an established time and date for the proposed meeting, which was March 24 at Thomas' office.
The night before the meeting, Wiggins said she received a call from Thomas that the meeting was no longer confirmed for that date and time.
Anna Barnett, a Stadium Stompers organizer, said the group was told "there was some kind of scheduling miscommunication" between Thomas' office and the university.
Brandon Lausch, a university spokesperson, told The Temple News that the university is "not aware" of any past or upcoming meetings between Thomas, Englert and community organizations.
Lausch later wrote in an email that he "was not aware of any" attempts from the Stadium Stompers to meet with the university.
A representative from Moody Nolan, the Ohio-based architecture firm that was hired to conduct a $1.25 million feasibility study and design of the on-campus stadium, told The Temple News in February that the study was "on hold." At the time, a university spokesperson said Temple was still continuing community outreach.
Since the Stadium Stompers formed, Barnett said members have been trying to meet with university officials, but the university has yet to agree to an official meeting with the organization.
"We've consistently been trying to schedule these meetings and it hasn't been a priority, clearly, for Temple, city council or for other politicians," she added. "We just think this should be a priority, but I can't really speculate as to why the meeting was canceled."
"There has been no dialogue," Wiggins said, between the university and the organization. "We're just going to keep moving forward."
Prior to the canceled meeting, university representatives proposed a meeting with four members of the Stadium Stompers on Main Campus, Wiggins said.
Wiggins said Stadium Stompers agreed to the meeting, but they wanted to bring more than four members. The meeting location was then changed to Thomas' office.
Barnett said the organization's main goal is still to meet with university officials.
"We just want to let [Englert] know that the community and students are opposed to it, and we're going to do anything to stop it," she said.
Kelly Brennan can be reached at kelly.brennan@temple.edu or on Twitter @_kellybrennan.