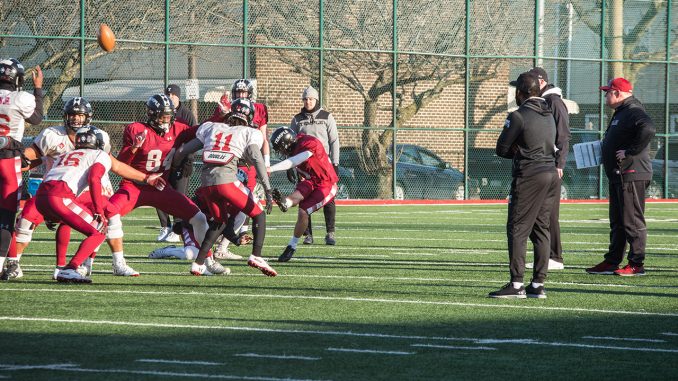 Aaron Boumerhi is trying to earn his job back.
The redshirt-junior kicker took 23 of Temple's 28 field-goal attempts and all of the kickoffs in 2017, but he spent most of 2018 watching from the sideline with a hip injury. Boumerhi is still recovering but is expected to be ready for summer practice and a competition with redshirt-sophomore Will Mobley, who replaced him last season, special teams coordinator Ed Foley said.
Boumerhi is still recovering from a hip injury that sidelined him after two games last season but is expected to be ready for summer practice, special teams coordinator Ed Foley said.
Mobley impressed while replacing Boumerhi for the final 12 games. Mobley went 11-for-15 on field goal attempts and made a 40-yard field goal to help secure the Owls' important victory against Houston last season.
Mobley and Boumerhi, the only kickers on the Owls' roster, are both experienced and have had success, Foley said. Boumerhi made a combined 30 field goals in his first two seasons at Temple. He went 1-for-3 last year before sitting out with the injury. Boumerhi has made 72.1 percent of his career field goal attempts, while Mobley owns a 73.3 conversion percentage.
Foley is excited to see Boumerhi and Mobley compete for the starting kicker job in the summer.
"What a great problem to have, is to have two guys that can put the ball through the pipe," Foley said. "We'll go out there in summer camp, let those guys go out there and compete. I think that will make them both better."
Last season was a learning experience for Mobley, he said. Mobley missed two of his first four attempts, but he finished the year making six of his last seven field goal attempts, including a 3-for-3 performance in the last game of the regular season against Connecticut.
"Early on, I definitely was a little nervous," Mobley said. "And as time went on, I got more comfortable. So I think it was a good season overall. I'm happy with how it did but I want to get better and improve often, especially this year."
Filling the role as a starting kicker was "a dream come true," Mobley added. But, Mobley does not want to get complacent.
He aims to build off his performance by trying different kicking techniques to increase his field-goal range and become more accurate. So far this spring, Mobley has been "excellent," Foley said.
"His work ethic is tremendous," Foley added. "His accuracy is very good. He has good times he gets the ball up in the air, and he gets it fast. And he has a way just to make it happen."
"Knowing that I proved that I can do it on the field and then taking it into this year trying to expand off of that," Mobley said. "My confidence is higher and just having experience is something good to rely on and lean back on."
Mobley is fully aware he and Boumerhi will have a position battle come summertime, but he is focusing on staying in the moment, he said.
"At the other day, were teammates so were just trying to help each other get better," Mobley added. "But ultimately, I want to do the best that I can so I can have the position. But, I just want to take it one day at a time and focus on improving myself and getting better.