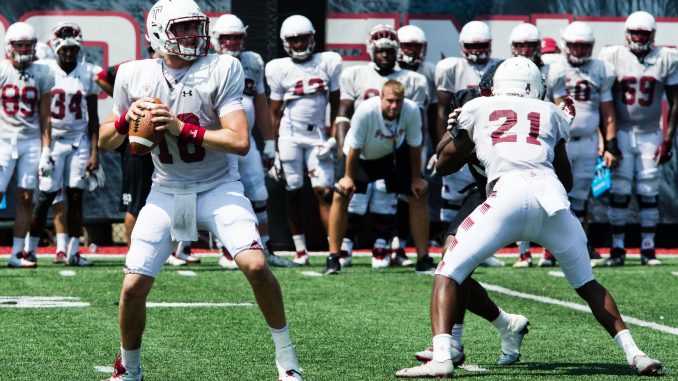 Dave Patenaude's face said it all Thursday night. The offensive coordinator looked down at the sideline in disbelief after redshirt-sophomore quarterback Logan Marchi threw his third interception in the third quarter against South Florida.
Nothing went right for Temple. The Owls played three different quarterbacks and turned the ball over six times in their 43-7 loss to South Florida at Raymond James Stadium in Tampa, Florida.
Temple (2-2, 0-1 American Athletic Conference) started the game with Marchi, began the second quarter with freshman Todd Centeio and ended the first half with redshirt junior Frank Nutile.
The quarterbacks combined to complete 7-of-25 passes for 89 yards and four interceptions. Marchi threw three, while Nutile threw one.
The group of quarterbacks faced pressure from South Florida's defense. The Bulls sacked Centeio on both of his two plays in the second quarter. They sacked Marchi twice and finished with five sacks and nine tackles for loss.
Even when Temple began to make positive gains, it made costly mistakes. Three plays after senior wide receiver Adonis Jennings gained a first down, sophomore wideout Isaiah Wright dropped what would've been a first down and possibly more.
In the third quarter, Nutile completed an 11-yard pass to Jennings. But the wideout fumbled on the play and it was recovered by senior cornerback Tajee Fullwood. Senior kicker Emilio Nadelman booted a 28-yard field goal on the ensuing South Florida drive to give the Bulls a 20-0 lead. The Bulls scored 19 points off of Temple's six turnovers.
Early in the game, Temple tried to get creative offensively. The Owls called a fake field goal pass, but as Marchi rolled out to the right he was sacked by senior safety Devin Abraham, and the Bulls gained possession.
Senior defensive lineman Jacob Martin gave the Owls some life late in the second quarter. Martin sacked senior quarterback Quinton Flowers and forced a fumble. Martin then scooped up the ball and ran 44 yards to score Temple's only touchdown of the night.
Martin also recovered a fumble after senior punter Alex Starzyk's kick was blocked in the first quarter and a South Florida player touched the ball after the deflection as it rolled downfield. Temple had the ball with a chance to score in South Florida territory but did not capitalize.
South Florida's offense extended its streak of scoring more than 30 points to 21 games in a row.
Flowers didn't find the end zone until the second quarter. He took off to the left side on a read-option play and juked out redshirt-senior cornerback Mike Jones on his way to a 22-yard score. Flowers finished the game with 59 yards on 16 carries and two touchdowns. He broke a South Florida program record in career rushing touchdowns and now has 33 in his career.
The Bulls rushed for 312 yards. Senior running back Darius Tice had a game-high 117 rushing yards on 15 carries, while senior running back D'Ernest Johnson followed with 106 yards on 24 carries.
Temple will look to rebound against Houston at Lincoln Financial Field on Sept. 30 at noon.