Temple University football will be represented during the NFL Draft for the fourth straight year, according to analysts projections.
Three former Owls — Rock Ya-Sin, Ryquell Armstead and Michael Dogbe — are projected to be drafted by NFL teams this weekend in Nashville, Tennessee, according to NFL.com.
Ya-Sin is ranked as the No. 4 cornerback in the 2019 draft positional rankings from NFL.com. He is widely projected to be picked within the first two rounds.
Armstead, who is projected to be selected during the final day of the draft, could become the first Temple running back to be drafted since 2012.
Dogbe could be a late-round draft pick, but because of the high number of strong defensive line prospects, he could go anywhere from the fourth round to being undrafted, an NFL scout told The Temple News in January.
If Dogbe does not hear his name called this weekend, he can sign with a team as an undrafted free agent.
Despite holding program records, former Owls Delvon Randall and Ventell Bryant are projected to be undrafted.
Former Temple players have had success entering the NFL as undrafted free agents. Former wide receiver Keith Kirkwood signed with the New Orleans Saints last offseason, worked his way onto the active roster and recorded a receiving touchdown in the playoffs. Robby Anderson, who was signed by the New York Jets after going undrafted in 2016, has scored 15 receiving touchdowns in three seasons.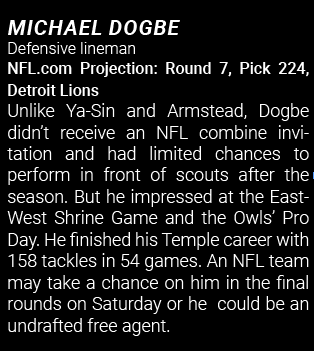 Bryant, Temple's all-time receptions and receiving yards leader, has met with multiple teams, including the Jets, Philadelphia Eagles and Tampa Bay Buccaneers, during the pre-draft process. Bryant is eager to prove himself despite the low draft buzz, he said after the Owls' Pro Day on March 18.
Randall, whose 54 consecutive games at Temple is a program record, could be the fourth Temple defensive back to enter the NFL in the last four years if selected after Ya-Sin.
The draft starts Thursday at 8 p.m.