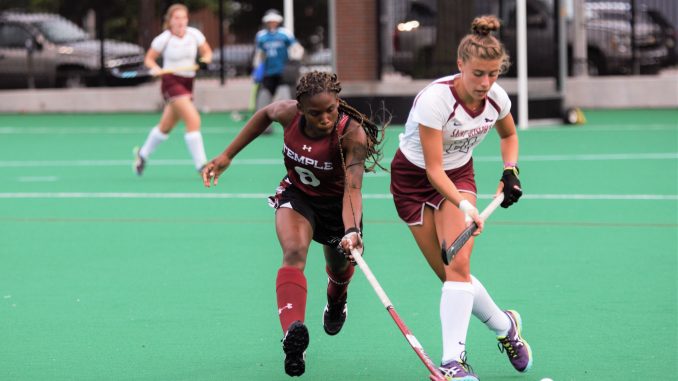 Anna Willocks made history against the Owls on Friday at Howarth Field.
The junior forward became the third player in St. Joseph's history to reach the 100-point mark after recording an assist in the first half and scoring the fourth Hawks' goal in their 4-1 win against Temple. Hawks freshman forward Emily Henry started and scored twice.
Senior midfielder Rachael Mueller, who led the Owls' offense last season with 10 goals, scored the only goal in the season opener. Sophomore midfielder Kathryn Edgar earned her first point of her college career with an assist on the tally in the 48th minute.
"It's not so much a goal for me, it's a goal for my team," said Mueller, one of the Owls' three captains. "We moved the ball up ourselves, so my teammates set me up to finish it."
Coach Marybeth Freeman said the team needs to focus on moving the ball upfield as a team in future games.
"We need to be able to pass it a little bit sooner, connect with our teammates a bit more inside the [50-yard line]," she said. "Really just play more simple hockey and set up a down-numbers situation going against three defenders."
St. Joseph's played with heavy midfield pressure, making downfield progress difficult for Temple. The Owls only attempted eight shots, four of which made it on goal. St. Joseph's attempted 21 shots with 11 reaching goal.
"We were just very weak in our defense all across the field on every line," Freeman said. "I think that we gave them too many chances through the midfield to attack."
Freeman was positive about her freshmen's play. Midfielder Taylor Alba started the game, forward Mia Sexton played as a substitute and back Dani Batze played the whole second half. Batze recorded a defensive save and Alba had one shot on goal.
Temple will play Bucknell University on Sunday at Howarth Field before starting a stretch of five away games.
"We need productivity," Freeman said. "I think we'll get there and this is a very good game for us to see that we have some work to do."