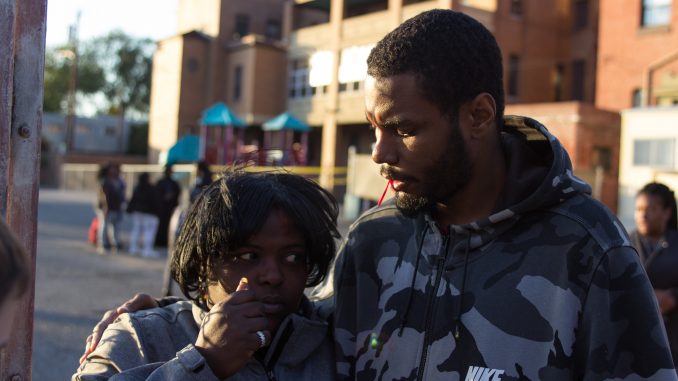 To those who knew him best, Duval DeShields was a young teenage student at Dunbar Promise Academy who loved dancing and giving back to his community.
"He wanted to make his mom proud," said Jaquan Fields, better known as Quany the Clown, of his "sidekick" Duval "DJ" DeShields.
Philadelphia Police said DeShields was shot Oct. 12 on 10th Street near Thompson. He died a day later at Hahnemann Hospital, eight days after his 14th birthday.
To remember DeShields, Jazzy's Entertainment—a community entertainment company that appears at birthday parties—held a memorial and fundraiser for his family Tuesday evening at St. Malachy Catholic School at 11th Street near Master. Funds will go towards the funeral and burial services.
Sheila Armstrong, DeShields' aunt, stood at the entrance to the event and collected donations from attendees. The city provides up to $5,000 to pay for funeral services for victims of crime, she said. She added DeShields came from a low income family with a single father after the death of DeShields' mother.
"He didn't have life insurance for his child, they were just worrying about survival," she said.
The fundraiser included face painting, balloon creations and other activities from Jazzy's Entertainment. Activist groups also attended and donated to the fundraiser, including "Mothers in Charge," which aims to educate and support against violence in communities, and "Unity in the Community" founder Anton Moore.
"Losing someone at the age of 14 is unacceptable," Moore said in a speech to the gathered crowd of family, peers, teachers and members of the community. "Just like a bullet hit DJ, it could hit your child. We have to stop accepting things like this in our community."
Armstrong added Temple needs to help the community through its grieving.
"We need everyone at Temple for this fight," she said. "You're our neighbors."
DeShields lost his mother to cancer in 2013, and his sister a year later, also to cancer. These deaths led to him joining Jazzy's Entertainment, Armstrong said.
"He started working with Jazzy and Quany because it gave him an outlet for the passing of his mom," she said. "It helped him express his grief, and he loved it ever since, compared to anything."
Armstrong said her nephew aspired to be a Ringling Bros. clown because he "realized being a clown brought joy and that's what he wanted to do."
Tricia Hobbs, who created Jazzy's Entertainment 20 years ago and performs as Jazzy the Clown, said DeShields was "excited about having a job and love to dance to make people happy."
DeShields was a performer for two years in the company.
Fields, who knew DeShields for four years through his siblings after Fields moved to the area, said DeShields was "shy, but once you got to know him, he blossomed."
DeShields had also been a member of Blackhawks football and baseball, which both play at Columbia Field on the edge of Main Campus, Armstrong said.
Hobbs said DeShields loved his job with Jazzy's Entertainment.
"It's never going to be easy," she said. "He loved teaching kids how to dance."
"He was energetic, really excited about having a job," Hobbs added. "He loved to dance and make people happy."
Fields added DeShields was so excited to be a part of the entertainment company that if there was a show at 3 p.m. on the weekends, he would show up at Fields' home at noon. DeShields performed hip hop, breakdancing and was learning to do magic tricks.
"He was even beginning to write his own music," Hobbs said.
Armstrong said DeShields' death will make it difficult for her to see all his friends grow up.
"The hurt's not going to go away," she said. "It's never going to be easy. Anybody that knew him, even if you didn't, if he saw you sad, he'd make sure he left you laughing and smiling. He was all about love. DJ was love."
Julie Christie can be reached at julie.christie@temple.edu or on Twitter @ChristieJules.