Editor's Note: This story has been updated at 8:40 a.m. on Oct. 5.
Since the death of 19-year-old Penn State sophomore Tim Piazza in February 2017, there is a national push for universities and Greek life headquarters to monitor chapters' alcohol consumption and activities more closely.
Piazza, who was hazed by fraternity brothers and forced to drink heavily, died of severe head and abdominal injuries. All of the organizations that oversee Greek life nationally have determined that heavy drinking has played a major role in recent fraternity hazing deaths, USA Today reported.
This semester, to combat heavy drinking and misconduct, Student Activities now requires Temple University fraternity and sorority chapters to register all social events that involve alcohol with the university. 
Last year, events, where attendees could bring their own alcohol, had to be registered with Student Activities. Those hosted by third-party vendors were not required to be registered, according to the 2017 Social Event Policy. 
Greek life conduct was under scrutiny last academic year. Kappa Delta Rho was investigated, and ultimately cleared, for alleged unspecified hazing activity in February. Later in April 2018, Temple's chapter of Alpha Epsilon Pi was suspended pending an investigation into excessive alcohol and drug use at the chapter. AEPi remains suspended this semester and its former president Ari Goldstein was criminally charged for two different rounds of sexual assault-related charges. 
Now, chapters must distribute wristbands provided by the university to 21-and-older attendees of social events hosted at a chapter house. Host chapter members may not purchase and serve alcohol to guests, and are required to have one sober member for every 15 guests at a social event with alcohol.
The university has increased its efforts to combat misconduct, namely heavy drinking, which has led to more serious conduct violations seen across college campuses.
UNIVERSITY POLICY CHANGES
According to the university's 2018 Social Event Policy, chapters are permitted to hold two types of social events with alcohol: an event in conjunction with a third-party venue that is licensed to serve alcohol, or a chapter party, where registered 21-and-older attendees are permitted to "bring your own alcoholic beverages," or BYOB. Alcohol is not permitted at recruitment or rush activities associated with any chapter.
The new policy now requires chapters to register events at least two Mondays before the planned event. Under the 2017 Social Event Policy, fraternities and sororities had to register all parties at least two days in advance.
Fraternity and Sorority Life Coordinator Mat Greer said BYOB events take place at a chapter's house, and 21-and-older attendees must wear wristbands. They then redeem the alcohol they brought from a member of the host chapter, who redistributes alcohol at a "redemption station," or bar.
Greer wrote in an email to The Temple News that he went to various off-campus sorority and fraternity houses the first weekend of registered social events, which began Sept. 21, to see whether chapters were compliant with the new policies. He said one organization was hosting an unregistered event, and he asked for it to be shut down.
"[The members of the organization] were compliant," Greer wrote. "No law enforcements [sic] were called. We have a good relationship with our current chapters and they are compliant when they know they are in the wrong."
The wristbands, now distributed by Student Activities, have six removable tabs on them and are designed to count each 21-and-older attendee's consumption of a six-pack of beer. Greer said the tabbed wristbands encourage social event attendees to bring beer rather than hard liquor, though liquor-free events are not an official university policy.
Greer said any ban on hard liquor at chapter houses must be done by the owner of the property. Some national fraternity headquarters put complete alcohol and substance bans on their chapter houses, like Phi Delta Theta, which established alcohol-free housing in 2000, and Beta Theta Pi in 2004.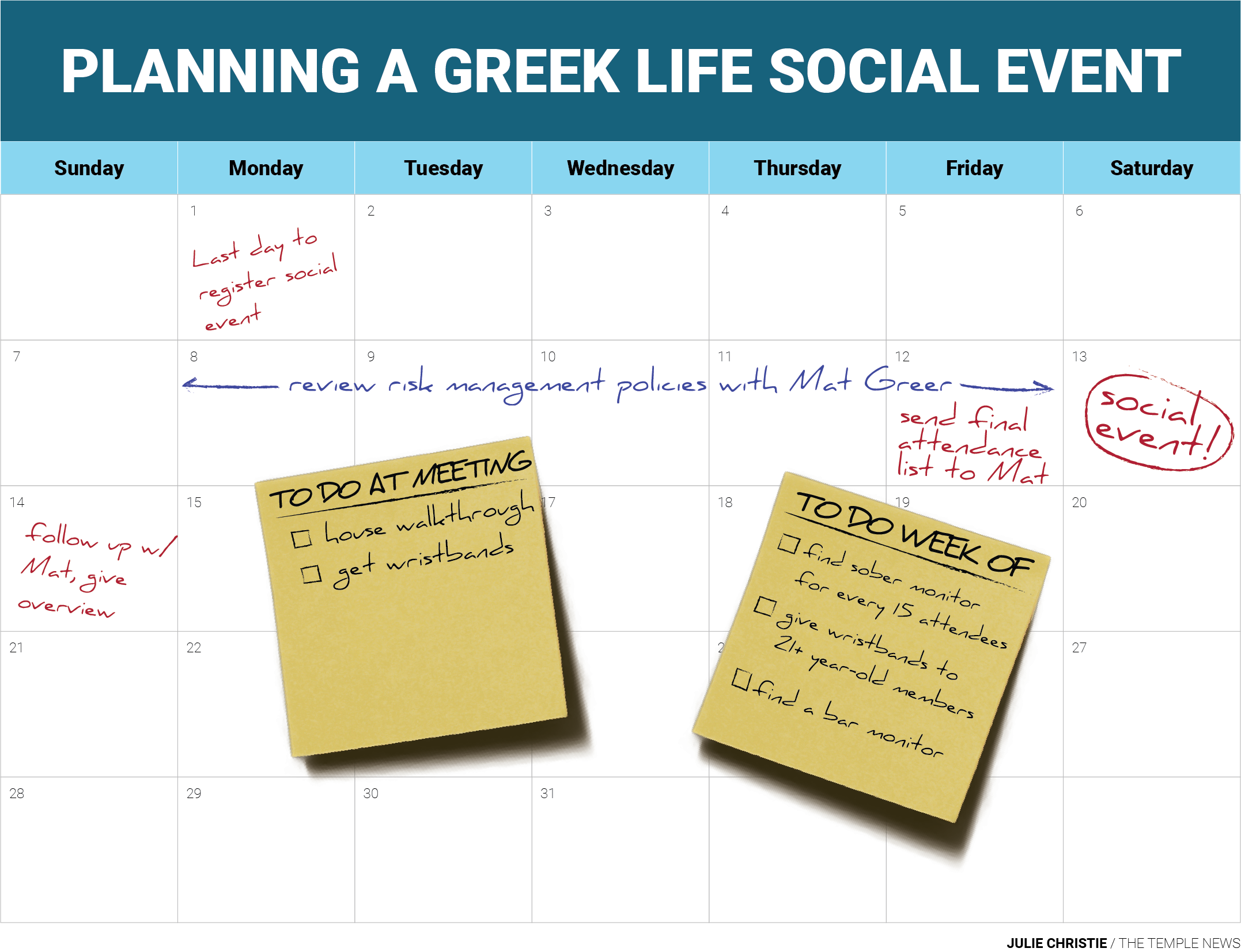 LIQUOR-FREE EVENTS
In late August, the North-American Interfraternity Conference announced that alcohol products with more than 15 percent alcohol by volume will be banned from all of its members' chapters and social events unless a licensed third-party vendor serves the liquor. 
The ban, which will be fully implemented in September 2019, applies to all members at chapters under the national organization, even if members are over 21 years old. However, implementation of the ban will vary depending on property ownership of chapter houses.
The NIC encompasses 66 international and national headquarters including some chapters at Temple, like ATO, Pi Lambda Phi, Alpha Kappa Lambda, Sigma Alpha Mu and Kappa Delta Rho and the suspended Alpha Epsilon Pi. Kappa Sigma does not belong to the NIC.
"Nearly all hazing and over-consumption deaths in the past two years have involved students consuming high-percentage alcohol beverages," the NIC wrote in August in an explanation of the policy. "The Conference felt it was critically important to act with one voice to effectively implement an industry-wide standard."
All but one of Temple fraternities' chapter houses are owned by private landlords, meaning the NIC policy does not apply directly to their houses, Greer said. One chapter house at Temple, Sigma Alpha Mu, is owned by the alumni of the chapter, but not the national fraternity, Greer wrote in an email. For these chapters, the NIC policy is a guideline, rather than enforced protocol. 
"It's who owns the property that matters," Greer said. "So if it's a private landlord…he or she can [determine] what the residents in the house can and cannot do. [I] fully support that they should be hard-liquor free because we see a lot of our issues with hard alcohol. We don't necessarily see as many of those issues with beer or wine."
SOCIAL EVENTS
BYOB practices mean that Greek life members –– who are not licensed to bartend, serve or buy alcohol in quantity at chapter houses –– are monitoring 21-and-older attendees' redemption of their own alcohol, rather than serving it, Greer said.
The redistributor is typically a "sober monitor," a member of the organization who is expected to remain sober throughout the event. The updated social event policies also require one sober monitor for every 15 guests present, Greer said.
Greer said chapters are required to create a list of attendees, then chapter leadership must review risk management policies in a meeting the week of each social event, which is when they also receive the wristbands. Before a chapter's first planned event each semester, Greer completes a walk-through in the house or venue where the event will be hosted. 
The lists may be updated until 24 hours before the event, Greer said. For registration last year, chapters were required to send a representative to a one-time risk management workshop.
Junior mechanical engineering major Kyle Lawrence, who has been president of Omega Psi Phi since April 2018, said the new policies were reviewed in Student Activities' president's retreat at the beginning of the semester.
"More or less, it's just for our safety and for Temple's safety, just to make sure that we limit the incidents as much as possible, try to keep everybody safe and be aware of who is drinking and make sure people are old enough and drinking responsibly," Lawrence said. "The whole idea behind it is just for the community to be safe. …Have fun, but also be safe at the same time."
Open parties, described in the university's 2018 Social Event Policy as "those with unrestricted access by non-members of the fraternity, without specific invitation, where alcohol is present," are not registered and not permitted by the university.
"There's no open parties," Greer said. "They're not allowed through any of our registration process. If they are happening, they are against the Code of Conduct."
The list of attendees records names and ages and determines how many wristbands for 21-and-older attendees are given to the chapter. Chapter leadership then gives wristbands to listed 21-and-older attendees. Each Greek life member is responsible for the actions of his or her invited guests. 
"All we can do is assure that we are educating them on what their roles are," Greer said. "…Ignorance does not mean that it's not a crime. Ensuring that [Greek life leadership is] educated on the rules themselves, is the best that I personally can do to ensure that we are doing what is best and safe, for our members and guests."
Social events at houses are permitted to be either chapter house mixers, which include only members of two organizations, or invitational and date functions, where each member is permitted to invite any two people.
Following the event, the host chapter is required to send an email to Greer and its local chapter adviser, communicating whether there were any issues and reporting the in and out times of registered guests, he said.
"[We're] having a conversation of, 'What happened at your event?'" Greer said. "We can help them to work through it as opposed to me hearing it either from the police department or Student Conduct. We want to help them before it gets [to] that place."
The redistribution of alcohol back to 21-and-older attendees, and all of the university's social event policy, is aligned with the Fraternal Information and Programming Group's guidelines for risk management procedures. Nationally, 56 fraternities and 30 sororities that are members of the FIPG use its risk management documentation and educational resources.
The university has increased its number of check-ins with chapters to be more proactive in preventing misconduct at Greek life social events. Greer said that the university communicates policies as effectively as it can to fraternity and sorority leadership and trusts leadership to conduct social events.
"We want to assure that the onus is on the chapter themselves, that if they decide to break the policy, then they need to know what the repercussions are," Greer said.