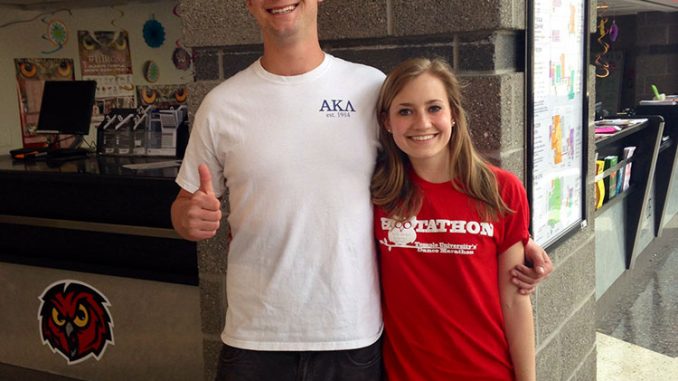 HootaThon gets its marketing strategies from Beyoncé. 
Freshman nursing major Mackenzie Abate, the Dance Relations chair for HootaThon, said the organization was inspired by Beyoncé's recently suprise-released album to embark on a surprise advertising campaign. In March, HootaThon members obscured billboards around Main Campus with posters that all read the same thing: "$100,000 For the Kids."
HootaThon was established at Temple last year, when it held its first dance marathon fundraiser in November. The organization is based on a yearlong fundraising initiative that culminates each year with the all-night dance competition. All of the money raised benefits The Children's Hospital of Philadelphia. Last year, Abate said she and her fellow members raised more than $60,000, which she called a successful first year. Based on that figure, members of HootaThon believe a total of $100,000 raised is an attainable goal for 2014.
"Since CHOP treats so many children, over a million a year with various things that include cancer, obviously it means all the kids are included, we're raising money for all of them and making sure they all can benefit from our events," Abate said.
HootaThon has collaborated with Interfraternity Council member Alpha Kappa Lambda to host a block party on April 25 that will benefit the philanthropies of both organizations. Alpha Kappa Lambda focuses on raising money for CHOP, specifically honoring members of the fraternity who battled cancer at the hospital.
Abate, a sister of Delta Phi Epsilon, said as a member of Greek life on Main Campus herself, she was familiar with AKL and its philanthropy, which led her to think the partnership would be a good fit.
"When I heard that their local philanthropy was CHOP I said, 'We've got to collaborate, they'll bring a whole lot of new people to our event and give us a whole new awareness and be able to spread the word to a community that we might not have been able to reach otherwise,'" Abate said.
Senior strategic communications major Sean Casey, who is president of IFC and a brother of AKL, said the fraternity has been hosting a block party benefitting CHOP for the past four years. Now that it has partnered with HootaThon to create more awareness and expand the overall charitable purpose, Casey said he expects the most successful fundraising year yet.
"The extensive network we now have access to – because a lot of the time people hear about fraternity events, and because we do events so frequently, it kind of gets drowned out because people are like, 'Oh, they're doing yet another event' – that HootaThon [has provided, as well as] a level of legitimacy, if that's the right word, and has allowed us to take it to a whole new level," Casey said. "Our record right now was last year. We raised $2,000, and I'm hoping to double that number. I'd like to hit $5,000 for this event."
The event was registered with the City of Philadelphia in February of this year, when Casey and other AKL members obtained a permit to shut down the block of Norris Street between 15th and 16th streets for the day. The event is planned to be an all-day affair, officially between the hours of 11 a.m. and 4 p.m.
Casey said as part of the process to obtain the permit, AKL knocked on every door on the block to ask residents for their signature of approval. Abate stressed that the event is "completely dry" and that anyone spotted with alcohol at the event "will be gone immediately." The block party is intended to be family-oriented.
"As much as it's for raising money for the Children's Hospital [of Philadelphia] and for the students of the Temple community, it's also for the people in the neighborhood," Casey said. "It's just really cool to also give back in that way at the same time, too."
The block party will offer a moon bounce, various tables of food for purchase, a variety of games and performances from groups, including the Hungry Ghosts.
Casey said AKL will run a can shake throughout the party. A number of student organizations that Abate has contacted will participate in fundraising efforts with tables at the event. Fifty percent of all proceeds raised by each group will go toward the overall cause.
Erin Edinger-Turoff can be reached at erin.edinger-turoff@temple.edu or on Twitter @erinJustineET.