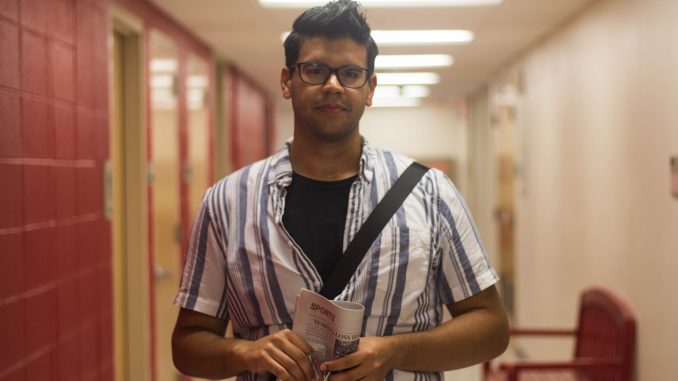 In February, Rafael Logrono applied to several programs and scholarships through the National Association of Hispanic Journalists. He thought the worst that could happen was he'd get rejected.
"I come from a background that I'm not wealthy," said Logrono, an adjunct instructor and a 2017 communication studies alumnus. "I'm not rich. My education expenses were going to be my own."
When the NAHJ sent him an email in April informing him he was denied from the coveted NBC News Group Summer Fellows Program, Logrono figured he'd also get rejected from the scholarships and resolved himself to finding another way to pay for graduate school. 
Instead, Logrono received the $10,000 NAHJ Facebook Journalism Project scholarship, an award given to five juniors, seniors or graduate students committed to digital storytelling. 
The NAHJ is a member-based organization dedicated to recognizing and supporting Hispanics in the news industry since 1984. Logrono, who grew up in Juniata Park with his Dominican family in North Philadelphia, is now pursuing a master's in journalism at Temple. 
In January, the Facebook Journalism Project, a program collaborating with news outlets and promoting news literacy, announced it created grants of $250,000 for four organizations, including NAHJ, to be distributed as five $10,000 scholarships per year for five years.
Alberto Mendoza, the executive director of NAHJ, said the Facebook Journalism Project is "heaven sent." NAHJ received more than 100 applications and the five recipients of the scholarship were chosen by a panel of the organization's members and journalists.
"[Logrono] rose to the top and we're excited to be able to see his development," Mendoza said.
Logrono has been extensively involved at Klein College of Media and Communication since transferring to Temple in Fall 2015 after receiving his associate's degree in communication studies at the Community College of Philadelphia. 
In 2017 as an undergraduate, Logrono created "La Charla," the first Spanish-language talk show on TUTV. He said he's extremely passionate about diversity of race, gender, sexual orientation, disability, age and immigration status. 
"I'm not shy about the need to diversify every single institution in our society from academia to government, from media to business," Logrono said. 
For Edward Dress, TUTV's content producer, Logrono's dedication to diversifying the media industry is exactly what will make him succeed. 
"In order to do really good journalism, you really have to know what issues your viewers or readership are interested in," Dress said. "The best way…to learn what matters most to different communities is to be as diverse as possible and make sure that every community is represented."
Before starting graduate school this semester, Logrono was hired as an adjunct instructor at Klein College. He taught a section of Introduction to Public Speaking in Spring 2018 and is currently teaching a section of Latin American Media.
Logrono also started the Klein College Latinx Student Association with help from Patrick Murphy, associate dean for research and graduate studies at Klein College, during Spring 2018. The student association, which officially launches this semester, is also for any Klein students interested in pursuing Spanish-language media.
Logrono, the inaugural director of the association, said he wants to invite guest lecturers to talk to the student association and give career advice.
"[Then] when they go out into the market they say, 'Oh, I can be boldy Hispanic, boldy Latinx and also make it in media,'" he added.
After Logrono completes the master's program in Spring 2019, he has his sights set on a career in media. 
"I love television," he said. "But I also love teaching. I'm sure I can do both at the same time, but I do want to try to make it as a broadcast journalist."
While Logrono debates his next move, he continues to leave an impression on Klein College's faculty, like Director of Communication Studies and Undergraduate Studies Scott Gratson, a former professor of Logrono's who has become a mentor and friend.
"I'm so incredibly proud of him because he's become so involved…and to have gained a national award is incredible," Gratson said. "This is an award that really underscores his vital connection with the community that he is a part of and is very proud of."
Similarly, Dress was happy to hear about Logrono winning the NAHJ Facebook Journalism Project Scholarship. 
"In a lot of ways he is…the future of the media," Dress said.