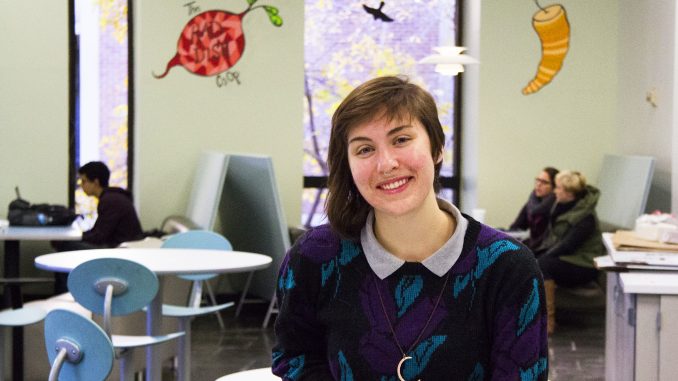 There will not be any turkey served at this month's Thanksgiving-themed Potluck with a Purpose.

The Green Council and the Rad Dish Co-op Café are sponsoring a Vegetarian and Vegan Thanksgiving on Nov. 19 from 6:30-8:30 p.m. in the Rad Dish Co-op Café in Ritter Hall.
"The Potluck with a Purpose was started two years ago and we've had one every month during the school year since the beginning," said Katy Ament, a senior environmental studies major and outreach assistant at the Office of Sustainability. "It's been the most successful sustainability event ever on campus. We were hoping for 30 people to come [to our first potluck], and we ended up with 84. Since then, we've always had between 50 and 130 people at our events."
The monthly student-run events feature a theme and a guest speaker who relates to issues the organizations within The Green Council focus on.
The Green Council partnered with the Rad Dish Co-op in an effort to promote the new vegetarian and vegan café, which will be opening its doors at the start of Spring 2015.
'The Green Council is a coalition of eco-friendly student organizations on campus," Ament said. "There are about 10 [student organizations] involved at anytime. The purpose is to foster those relationships between student organizations and allow them to have a time designated to promoting events to one another and figuring out how they can collaborate."
Rachael Voluck, the finance committee head at the Rad Dish Co-op, said that the Green Council came to members of the co-op asking to hold the pot-luck at Rad Dish, since their healthy food missions are compatible.
"They asked us if we would like to have it here in the space to promote the café, since we are talking about the importance of this lifestyle," Voluck said. "Rad Dish is a really nice transition from the topic of the Potluck into reality at Temple."
Students are presented with limited vegetarian and vegan options on Main Campus and in the dining halls, which is a void that Rad Dish hopes to fill.
"The goal of Rad Dish is to have a menu where no one can go and say there is anything they can't eat," Voluck said. "Students will be able to order salads, sandwiches, juice, baked goods and a seasonal stew as well. We are showing an easy connection to vegetarianism at Temple and giving a space where vegetarians can feel welcome."
For students living on Main Campus, access to foods that fit their lifestyle depends on their personal diet and needs.
"I think it's easier to follow [a vegetarian diet] at home because of the ability to choose exactly what you want, but I also think Temple has pretty awesome vegetarian and vegan selections," said Sam Quigley, a freshman psychology major.
"I have no problem, because I mainly eat fruits, vegetables and seeds as a raw vegan," said Morgan McDanel, a freshman drawing major. "If you like to eat more comfort food items or snacks, it can be difficult to find options [on Main Campus] without dairy and eggs. It would be nice to have a completely vegan eatery in one of the food courts on campus."
Ament hopes students leave with a better understanding of what a vegetarian or vegan diet entails and how following an animal-friendly lifestyle is a sustainable and conscious choice.
"I think it is all about being a conscious eater and thinking about the impacts of what you are eating, especially given the ecological and environmental impacts of mass-producing meat for consumption," Ament said. "It's important to talk about the larger issues, but when it comes to the embodied experience of eating your food, I think that's a really important aspect of talking about and educating others about different types of diets."
The Potluck with a Purpose is free and open to all students.
Tim Mulhern can be reached at tim.mulhern@temple.edu