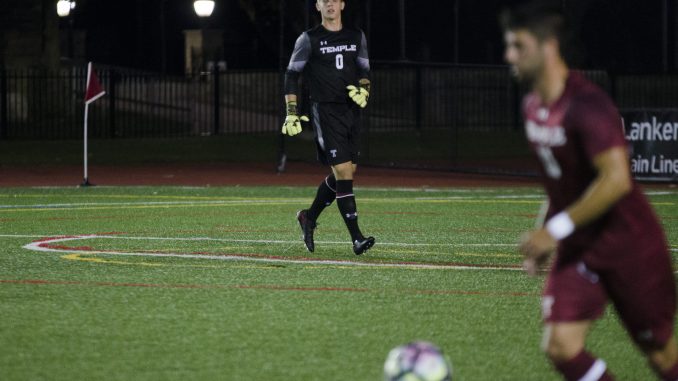 The connection between a goalkeeper and his defense is special, intense and formed over time.
During matches, redshirt-senior goalkeeper Alex Cagle yells commands and gives directions to his defense to make sure the goal is as protected as possible. This communication between Cagle and the defenders can decide a game, so each side needs to have a clear understanding of its role.
While this strategy worked for Temple last season, the Owls now have defensive gaps to fill. They lost three of their starting defenders, who signed professional contracts last season: Matt Mahoney, Stefan Mueller and Carlos Moros Gracia. The new defense must learn to communicate effectively throughout the game.
"Honestly, communication is the single most important role I have as a goalkeeper," Cagle said. "I have to learn the new tendencies of the defenders, and it can be difficult finding the new balance."
Figuring out teammates' habits in games comes largely from playing together, Cagle said. He, Mahoney, Mueller and Moros Gracia started every game together for the Owls in 2016.
Change of the guard: Temple loses three pro-level starting defenders.
| | | | |
| --- | --- | --- | --- |
| | Games | Starts | Minutes |
| Matt Mahoney | 18 | 18 | 1,584 |
| Carlos Moros Gracia | 18 | 18 | 1,674 |
| Stefan Mueller | 18 | 18 | 1,578 |
Mahoney and Mueller played in nearly every game in their four years at Temple, and the duo became a staple in its defense starting their freshman seasons. The two played more than 12,000 combined minutes throughout their college careers.
"It's really different," Cagle said. "Matt and Stefan were two kids that I've played with since freshman year. I even lived with them. We were a very cohesive group. And Carlos was there for only two years, but we formed a bond quickly."
The Owls have some starting defenders returning, including redshirt senior Mark Grasela, senior Brendon Creed and sophomore Nick Sarver. Grasela started in all 18 games last season, Creed played in 13 and Sarver played in 11 and earned a spot on the Philadelphia Soccer Six All-Rookie Team. All three started Temple's season opener on Friday against St. Joseph's.
"We know each other's tendencies to the tee," Cagle said of Grasela. "It's almost like you are playing with yourself."
Temple recruited four defenders and three midfielders to add to its roster this season. The defenders include freshmen Kevin Berntsen, Darri Sigthorsson, Max Pochobradsky and junior Jamie Pick, while the new midfielders are senior Divin Fula Luzolo, sophomore Ezer Browne and Syracuse University transfer Khedive McIntosh. The new group joins a back line that gave up just 15 goals in 18 games while recording nine shutouts. The Owls recorded a 10-6-2 record last season, winning six one-goal games.
"We know each other's tendencies to the tee. It's almost like you are playing with yourself."
ALEX CAGLE
REDSHIRT-SENIOR GOALKEEPER
The team is operating under "different personnel, same system," Creed said.
"It already feels different to me, playing without those guys," Creed said of the graduated defenders. "But I learned so much from them, so I hope to pass it on to the new guys."
While some of Temple's new defenders grew up nearby, others are not. Pick is from Scotland, and Sigthorsson is from Iceland. The different playing styles and language can also be a barrier to a seamless transition from last year's back line to now, Cagle said.
"I use several words and phrases when I play to communicate with the defense," Cagle said. "We have a guy from Iceland this year and it makes it even more difficult to get used to because he doesn't understand all the phrases we use yet."
While there are negatives to losing consistent starters, there are benefits to having fresh faces. There was a different energy during preseason practices, Cagle said, and the new Owls are excited to begin their college careers.
Though there are holes to fill and Mahoney, Mueller and Moros Gracia aren't easy to replace, the open spots on the roster can entice young players to work their hardest to earn a starting spot, Creed said.
"I think we have some quality players on defense this year," coach David MacWilliams said. "Plus, we've got some new sophomores that have really stepped up and a couple upperclassmen that can help lead."