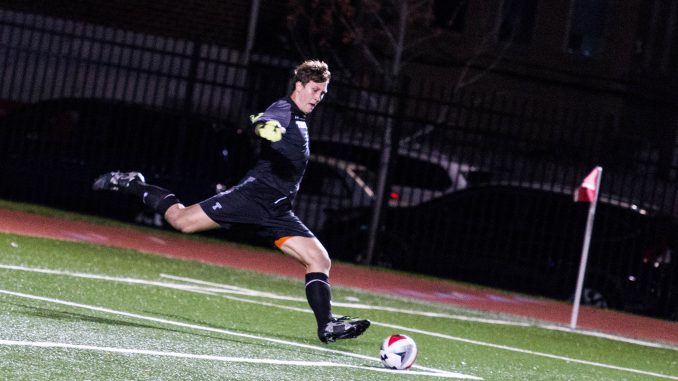 Senior Joonas Jokinen, a 5-foot-11-inch forward and midfielder, isn't usually the Owls' first target for headers on corner kicks.
In the 54th minute against South Florida on Saturday, senior midfielder Divin Fula Luzolo sent a ball into the box. After it took a few deflections, Jokinen kicked it into the net from an awkward angle to score the only goal in Temple's 1-0 victory at the Temple Sports Complex.
"Obviously, I'm not a very big player," Jokinen said. "I'm not one of those guys who usually challenges for those aerial balls in the box. I'm one of the guys who drop off and try to get that second ball, and luckily it came right to me. It feels great."
The Owls (9-7-1, 4-3 American Athletic Conference) clinched the fourth and final spot in the conference tournament. They'll face Southern Methodist, The American's regular-season champion and the No. 13 team in the United Soccer coaches poll, on Friday in Dallas. The winner will face the victor between Central Florida and Connecticut.
Four teams, including Temple, entered Saturday with a chance to earn the final two postseason spots. Despite the Owls' senior night game being a win-or-go-home scenario, senior midfielder Matt Sullivan said the team wasn't worried.
Entering Saturday, Temple had a 0-4-1 record all-time against the Bulls, including a 1-0 loss in last season's regular-season finale.
"I knew we were going to win," Sullivan said. "It wasn't really that stressful, came in, took some pictures with my family. Like I said though, I knew we were going to win."
Temple relied heavily upon its midfield and back line to keep the Bulls' consistent pressure at bay in a gritty game. The teams combined for 29 fouls, and each team received two yellow cards.
Jokinen's goal was the Owls' only shot on goal of their seven attempts. South Florida took four shots on goal and 12 shots overall. The Bulls also led in corner kicks, 6-3.
Sophomore goalkeeper Michael Samnik made two saves in the final 10 minutes. He earned his third shutout of the season.
Coach David MacWilliams said his defense was the reason his team won. He highlighted redshirt-senior defender Mark Grasela, who deflected a potentially game-tying shot in the 89th minute.
"Grasela has done a tremendous job for us all year," MacWilliams said. "I'd be really surprised if he doesn't make first team [all-conference]. He's been a beast back there for us."
Since losing, 2-1, to Southern Methodist on Oct. 7, the Owls have won four of their past five games and allowed four goals in that span.
The Mustangs haven't lost a game since their conference opener against Tulsa on Sept. 24. They have the 11th-best goals against average in Division I.