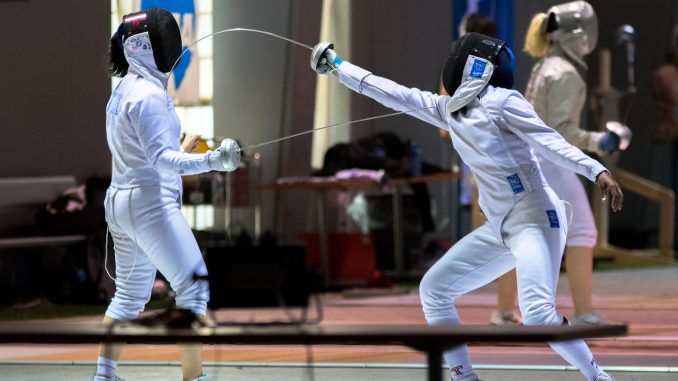 Temple, which is ranked seventh in the CollegeFencing360.com Women's Coaches Poll, won seven of its 10 matches during the two-day Philadelphia Invitational hosted by Penn on Saturday and Sunday. Coach Nikki Franke is now five wins away from 800 for her career.
The sabre squad finished with a 6-0 mark on Saturday to help the Owls (14-6) finish the first day of competition 5-1. Sophomores Kerry Plunkett and Malia Hee finished with identical 11-2 records. The sabres had a 9-0 record in the Owls' 17-point win against Fairleigh Dickinson University and only lost two bouts in Temple's 21-6 win against New York University.
Temple's only loss on Saturday came to No. 8 Northwestern University, which bested the Owls, 16-11. The foil squad lost, 7-2, to the Wildcats.
The fencing team concluded the second day with a 2-2 record. In their first matchup against Yale University, the Owls fell, 14-13. The Bulldogs posted a dominant 7-2 epee score.
The Owls' other loss came against No. 2 Columbia University. Temple lost, 7-2, in foil and 6-3 in epee.
The Owls beat Wagner College, which is coached by former Temple foil Fatima Largaespada, 27-0. The Seahawks don't have a foil squad, so they had to forfeit nine points. The Owls' other win came against Brown University. The epee and sabre squads each went 7-2, resulting in an 11-point win for Temple.
The Owls' sabre squad also went undefeated on Sunday. Sabre squad leader junior Blessing Olaode finished a team best 8-1. Sophomore epee Camille Simmons had a 6-1 record, and junior epee Fiona Fong went 5-2.
The Owls' next match is the Northwestern Duals in Evanston, Illinois. Temple will take on 10 opponents, including No. 8 Northwestern.