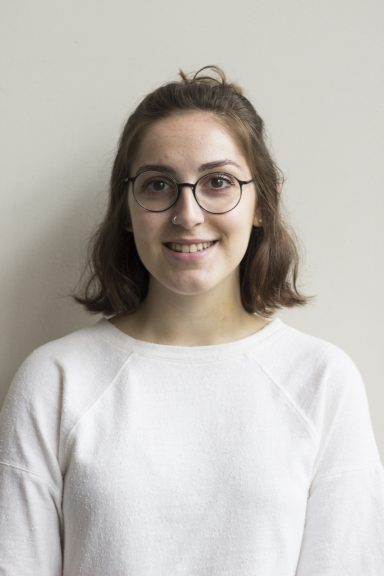 Lately I've been waking up to the sound of Peabody Hall's remains being torn up and bulldozed. And on my way to class, I change my route to avoid congested spaces corralled by temporary construction fences. There are people in hardhats and yellow reflective vests everywhere I go.
The construction zones that consume much of Main Campus signal that the university is trying to expand and improve. Dozie Ibeh, the associate vice president of Temple's Project Delivery Group, told The Temple News that there were 107 construction projects on campus at the beginning of the school year.
Modernization of our facilities is not necessarily a bad thing, but I think the rapid redevelopment of Main Campus takes away from the architectural character of North Philadelphia.
In recent years, Temple's construction has been centered around a modern architectural style. Buildings like Morgan Hall and the Science and Education Research Center, which were unveiled in 2013 and 2014, are made primarily of glass, as opposed to traditional materials like brick, stone and wood.
These architectural changes alter the dynamics of our campus and, more importantly, North Philadelphia as a whole. Being located in a city not only means Temple has limited space, but also that it must share that space.
Temple should be modernizing in moderation — the brand-new architecture poses a stark contrast to historic North Philadelphia row homes that previously dominated this neighborhood. I'm concerned that the new, sleek style sends an unwelcoming message to long-time community residents.
At 27 stories high, Morgan Hall not only towers above Main Campus, but also the surrounding community. It is even marked with a large Temple "T," branding the neighborhood as belonging to the university.
In April 2017, a proposed skywalk to connect Alter Hall with 1810 Liacouras Walk was denied by Philadelphia's Architectural Committee.
One of Philadelphia's historic preservation planners Randal Baron recommended the committee vote against the skywalk  bridge, because it would "interrupt the continuity of the street." Committee member Amy Stein, who voted against the skywalk, said it was "anti-intuitive to being integrated into that urban environment that Temple exists within."
Despite these recommendations, the university moved forward with the project, which was later approved. Construction on the skywalk began in August.
It is disappointing that the university seemed to ignore legitimate concerns about the architectural preservation of the community. To avoid other impositions, the university should be cautious about how much space it takes up and what visual markers it uses to claim that space.
"There is this sense of antagonism between Temple and the North Philadelphia community, where people feel as though Temple is encroaching on the neighborhood, but not inviting the neighborhood to be a part of Temple's campus," said Timothy Welbeck, a geography and urban studies adjunct instructor.
Welbeck said we need to be "more mindful of those types of initiatives and how they impact the community."
The Preservation Alliance for Greater Philadelphia promotes the appreciation, protection and appropriate development of historic buildings and communities in Philadelphia. In 2009, it published "Philadelphia's African American Heritage: A Brief Historic Context Statement," a study that explored six historically Black neighborhoods in the city, including the area surrounding Temple.
"The historic sites and buildings that embody this rich heritage are still scattered around the city, both as reminders of the past and as current community pillars," the study states. "These resources deserve recognition and protection, and to be celebrated not only for their importance to Black history, but for their significance to the history of Philadelphia."
Temple should heed the Preservation Alliance's advice when building facilities to ensure North Philadelphia residents can still recognize their community.
Regarding past construction projects, the damage has already been done for many North Philadelphians. But it isn't too late to preserve the surrounding community's integrity in future Temple buildings.
Many of the university's 107 construction projects remain ongoing, most noticeably the library in the middle of Liacouras Walk. I hope the university considers the North Philadelphia community in the early planning stages of future projects.
By redesigning buildings on Main Campus, the university risks erasing decades of historical North Philadelphia architecture. The community has been here far longer than the university, and its residents deserve to see themselves in their own neighborhood.