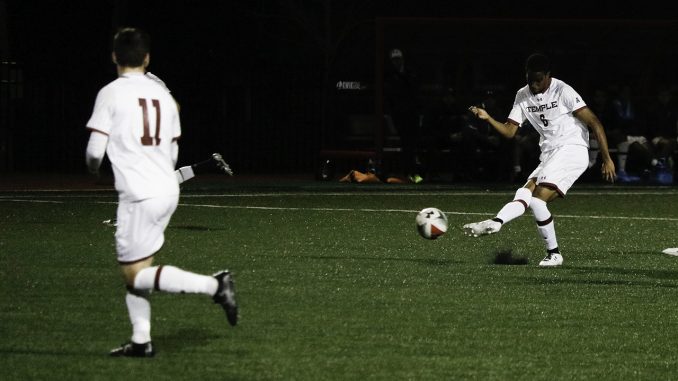 With just over 30 minutes to go in a tied game against a ranked team, the Owls were down a man.

A through ball gave freshman forward Elias Hellgren Villegas a scoring opportunity in the 57th minute. Old Dominion University's junior goalkeeper, Mertcan Akar, came out to make the save while Hellgren Villegas kept running. The two collided and Hellgren Villegas was issued a red card.

"I certainly felt like it was maybe a harsh decision, coach Brian Rowland said. "I didn't necessarily think it was worthy of a red card, but we didn't dwell on it."

Instead of worrying about a call, the Owls (1-2-0) pulled out a 1-0 victory against Old Dominion Sunday night in Norfolk, Virginia thanks to a second-half goal from freshman midfielder Zach Brown.

Temple's first victory of the season comes against an Old Dominion team that made the NCAA Tournament last season and is ranked 25th in the NCAA Division I United Soccer Coaches poll. This is Temple's first victory against a ranked team since 2015 when the Owls beat Penn State.

"They battled and you could tell that they were pretty pumped at the end of the game," Rowland said. "That was one of the toughest, grittiest performances I can remember. Hats off to the guys, they did a fantastic job."

The Owls were outshot 14-4 with all of their four shots, two of which were on target, coming in the second half. Brown scored in the 64th minute and the goal was assisted by freshman midfielder Andres Charles-Barrera and sophomore defender Pierre Cayet.

The bulk of Temple's offensive output came in the second half, as was the same for the Monarchs. Old Dominion logged 13 second-half shots, four of which were on goal.

"The shots kind of piled up later, but a lot of them were from manageable distances and weren't overly troubling," Rowland said. "And they were desperate at the end to get something back."

Despite the onslaught at the end of the game, junior goalkeeper Michael Samnik earned Temple's first shutout of the season. Samnik ended the night with four saves in his first start.

"Michael was ready for his opportunity and played very, very well, so I'm very pleased," Rowland said. "He had a good performance and certainly his game-play helped us manage the game."

This game closes Temple's participation in the ODU Soccer Classic Tournament where the Owls placed second of four teams. Brown, Cayet, and junior defender Akeem Prawl all earned All-Tournament honors.

Temple's next game is the last of its four consecutive away games that opened the season. The Owls will face Rider University on Sept. 5 in New Jersey.