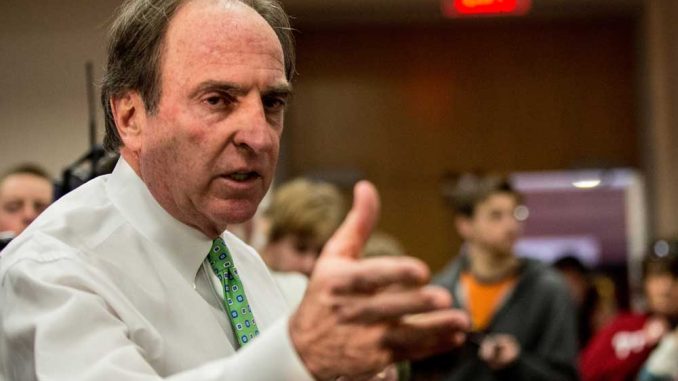 Fran Dunphy had never addressed the crowd at the Selection Show party before, but this time was different. This time, he was grateful.
"I feel like we've disappointed a lot of people," Dunphy told the packed Fox/Gittis room at the Liacouras Center Sunday evening. "We didn't do our job."
Dunphy has coached 14 NCAA tournament teams in his career, but only two of them – both in the past two years – have reached the field as an at-large bid. Temple's draw this year as a No. 9 seed in the East region, is the lowest seed the Owls have received as an at large with Dunphy as their coach.
For the third season in a row, Temple was bounced from the Atlantic 10 Conference tournament, losing a 79-74 second-round contest to Massachusetts in Brooklyn, N.Y., on March 15. But this season was surely the closest Temple has come to not making the tournament since the Owls went 12-18 in the 2006-7 season, Dunphy's first as coach.
Dunphy himself said it was the most uneasy he's felt on Selection Sunday in his career. That's why he found himself watching the Selection Show in his office, hearing Temple's named get called alone, instead of out mingling with the crowd at the selection party, like he's done every other year.
Once he and his team filed into the Fox/Gittis room to celebrate with the fans and talk to the media, Dunphy said he felt the need to address those who weren't satisfied with the team's performance in the A-10 tournament.
"We weren't going to come over here until we knew we were in," Dunphy told the crowd. "And we didn't know we were in. There was no real indication. But really the most important thing for us as a team is to understand how fortunate we are, how grateful we are."
The elephant in the room wasn't the fans' dissatisfaction with the team's performance last week, but rather the bleakness of Dunphy's NCAA tournament résumé overall.
Dunphy has compiled a 2-13 record in the NCAA tournament in his 24-year career, which is second worst in the country among coaches who have had at least 10 tournament games. At Temple, Dunphy has lost in the Owls' first game of the tournament four out of five times.
Temple is one of eight teams in the country to be going to its sixth-straight NCAA tournament, but the Owls have little to show for it.
"We've been pretty fortunate over the last six years to be able to go to this tournament," Dunphy said. "We have to do a better job. There's no question about it. But there's not that many teams who have been able to get there as long as we've been doing it."
Facing questions about what he and his team can do differently this year to change the outcome, Dunphy didn't have an answer other than "play the best basketball that we can." He said that preparation is fluid, and there are varying schools of thought on how to best get your team ready.
"Do you get enough rest? Do you work hard enough? There's so many variables, but hopefully we'll be ready to go," Dunphy said.
"We're flying by the seat of our pants," Dunphy added. "We'll feel the game out. We'll feel the preparation out. One of the things that happens at this time this year is you may get an hour and 20 minutes into practice and you say, 'That's enough. We're as good as we can be today. Let's cut it off and not do too much more.' Or there's some other days where we go two and a half hours and we really need that preparation. It's just going by feel at this point."
Players said this year will be different because the team is hungry after its loss to UMass and has unified in a sense of resiliency.
"We have a different group of guys," redshirt-senior forward Scootie Randall said. "Each year, the relationships have gotten better. This year, we have young guys who actually know their role. They look up to us a lot and they want to learn from us. We have chemistry now that can take us a long way."
"We have some confident guys," senior guard Khalif Wyatt said. "We're going to be ready to go. We're going to be prepared. Coach Dunphy is going to prepare us. We're going to lay it all out and try to make a run at this thing."
Wyatt, in particular, wants to redeem himself in the tournament after putting up one of his worst shooting performances of the year in the loss to UMass. Wyatt was honored with the A-10 Player of the Year Award before the game, but shot 4-for-19, including 2-for-11 from three.
"Right after that game, you want to get that taste out of your mouth as soon as possible," Wyatt said. "You just want to get back out there."
"Friday can't get here fast enough."
Joey Cranney can be reached at joseph.cranney@temple.edu or on Twitter @joey_cranney.