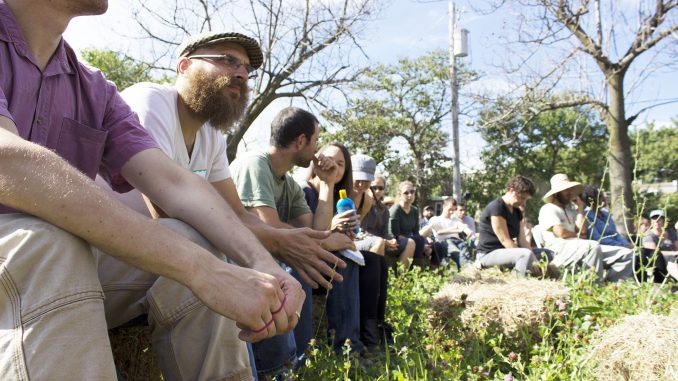 Food and music rang from all corners of Philadelphia last weekend – and it was all homegrown.

The Homegrown Music Festival took place from Sept. 12-14 in community gardens and urban farms scattered across the city. Co-founders of the first-of-its-kind festival – African American United Fund, Jr Music Executive Program, Uptown Theater Development Corporation and PhillyEcoCity – organized 35 musicians at 11 green spaces to celebrate the local culture.
"The Philadelphia Homegrown Festival is an attempt to be able to provide exposure for local music artists while raising awareness about food justice issues and what the local farms and gardens are doing in response to it," Aisha Winfield, founder of Jr Music Executive Program, said.
Pop-punk band Could've Been Kings planned to have its first festival experience at Weaver's Way Farm at W.B. Saul High School of Agricultural Sciences in Roxborough on Saturday.
Due to heavy rain on Saturday, seven performances were rescheduled for last Sunday. Originally, event programming on Sunday was reserved for one event, which would feature educational workshops hosted by Philly Urban County Fair and complimentary performances beginning later in the day, but plans were adjusted accordingly.
"The idea behind what [Homegrown] stands for is something that we fully support," senior media studies and production major and drummer of Could've Been Kings, Larry Iaccio, said. "There is so much untapped potential within the streets of Philadelphia that oftentimes it gets overlooked because we do not know how to properly syndicate that potential to a wider, more receptive audience."
Homegrown offered musicians like Iaccio the opportunity to get their name out into the public and gain local attention.
"Homegrown not only gives artists like ourselves a place to showcase our talent and product, but it allows us to bring the attention back to the local communities through two of the things that everyone loves: food and music," Iaccio said.
The festival wrapped up with the more informational event on Sunday at North Philly Peace Park in conjunction with Philadelphia Urban County Fair, where visitors were welcomed to a potluck-style meal and a series of workshops like "Intro to Backyard Chickens," "Gentrification and Choice Neighborhoods" and a panel session on "Making It Work: Challenges and Benefits in Urban Farming."
"This is about providing people with a palate; to let them taste the music and taste the food," Aissia Richardson, president of African American United Fund, said. "This is about real food, and this is about real musicians that are committed to the real art of music."
The sounds of local music rolling out of the gardens was the incentive to stop in, Winfield said, but inside the gates a community celebration was taking place. It was the goal of the Homegrown Music Festival to provide neighbors, listeners and gardeners alike with the means to take initiative in the quality of food they consume.
Each garden and farm that participated in the festival makes its home in a low-income neighborhood, and most fall in food deserts – areas limited to no access to fresh food – Winfield said.
"There will be a longtime opportunity to volunteer and come back," Winfield said. "I think the community knows that [the gardens are] there, but doesn't necessarily know how they can get involved or what things are available for them."
Spreading out the events across the city was a means of planting seeds for a permanent solution. Volunteers present at each site worked to demystify the community gardening process, and encourage neighbors with the opportunity to get involved in a project that would help to sustain a self-reliant and healthy community where they make their homes.
"What the festival is about is neighbor to neighbor – it's about building relationships," Richardson said. "There's something powerful about eating together, which is why I'm glad that we have a mini-market going on at some of the sites. When you break bread, it's almost like you break a barrier. You get to understand someone over sharing a meal."
"Music, I think, does the same thing," Winfield added. "It breaks a lot of barriers that may naturally exist."
The Homegrown Festival is projected to be an annual celebration that will bring the music back to Philly near the end of the summer festival season. Jr Music Executive's initial goal in support of the Homegrown Festival was to give local artists a chance to grow in a time where grand-scale Philadelphia festivals, like Made In America, don't showcase local talent, Winfield said.
"We're doing this as a labor of love, but also because we know we have something special," Richardson said. "We know we can help people to be able to take themselves to the next level."
Brianna Spause can be reached at  brianna.spause@temple.edu and on twitter @briannaspause