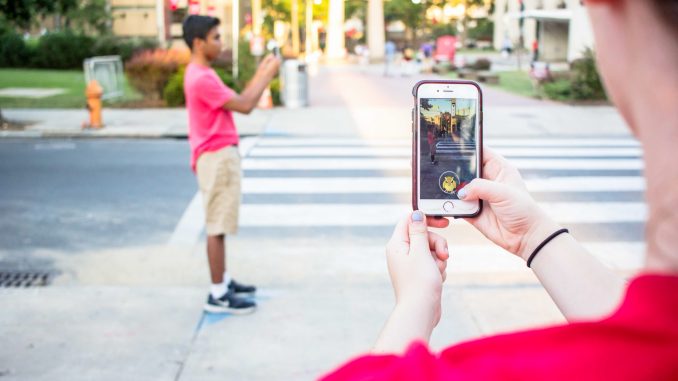 This summer, groups of people gathered around the Bell Tower, their eyes locked on their phones. They all shared one common interest: catching Pokemon.
New and old Pokemon fans have discovered a community of players — and a whole lot of Pidgey—on Main Campus.
"Pokemon Go" debuted on July 6, and currently has around 30 million active users. It uses mobile GPS to allow players, also known as "trainers," to catch Pokemon, collect useful items at Pokestops and pit their Pokemon against other players at Pokemon gyms. Both gyms and Pokestops are real, designated areas all over the world.
"You would see a bunch of people sitting by the Bell Tower and you would know exactly what they were all doing,"
Ethan Greenstein, a junior marketing major said of the first few weeks after the game's release.
There are three Pokestops around the Bell Tower, which makes it a popular place on campus to play the game, Greenstein added.
"It's nice playing on campus," he said. "It's a community. It's not just me playing by myself in Center City."
Greenstein downloaded the app the second day it was available because he was curious.
"I played Pokemon a long time ago," he said. "I was interested to see this iteration of it."
"The original Pokemon game is very combat battle focused and the new one is catch focused," Alec Duffy, a freshman psychology major, said. "There's a huge emphasis on building your Pokedex and getting all of the Pokemon."
Duffy began playing Pokemon in second grade and enjoys the different experience of the game from the app.
"It's not a nostalgic feel, but more of an evolved feeling to Pokemon that I really like," he said.
Since the launch of the app, there have been safety incidents across the country in regards to playing the game. In response, the Temple Police have taken safety initiatives.
"We want to make students aware to be safe while playing, so our department tweeted out safety tips back in July," said Charlie Leone, executive director of Campus Safety Services. "We also made our police and security personnel aware of the 'Pokemon Go' Pokestops and gyms around the campus area."
Leone said there have been no safety incidents related to "Pokemon Go" on Main Campus.
On Sept. 10, the Temple Gamers Guild — a student organization in which students play different games in a communal setting — will host a "Pokemon Go" meetup, said club president Greg Calhoun, a senior information science and technology major. At the meetup, players will participate in a Pokestop scavenger hunt competing for a small prize.
"We're expecting a lot of freshmen," Calhoun said. "They don't have much going on and still need to make friends. It's a reason to get out of your dorm room and do something interesting."
"Temple is the only place I don't run out of Pokeballs all the time," Duffy said.
One of Duffy's most prized Pokemon is a Magmar, which he describes as a "fire duck."
"It's rare, and I caught it outside of  a Chipotle," he said.
Hannah Shippas, a freshman biology major, has been a Pokemon fan since elementary school.
"I think it will encourage me to get around campus more instead of staying in my dorm all day," she said. "I can't wait for meetups to start so I can meet new people and become friends with fellow players."
Kelley Hey can be reached at kelley.hey@temple.edu.
Tsipora Hacker contributed reporting.