An Eagles player with mustache envy began recruiting his own team at chain restaurants. Now, he owns a bistro of his own.
Prime Stache, located at 110 Chestnut St., is the brainchild of Eagles tight-end Brent Celek. He and co-owner Hee "Chino" Chang became business partners after meeting at Redstone, a favorite spot for hungry football players, where Chino was the head executive chef. The two invited former employee Ron Guri to leave his post at T.G.I. Fridays and become general manager at their bar.
"It's [Celek's] vision and [Chang] puts it all together," Guri said. "We're not trying to give anyone overbearing service. This bar and restaurant is about feeling at home."
Exposed brick, wooden tables and a full marble counter bar are inside, and a simple, wood-carved mustache as the identifying sign outside play up the aesthetic.
"For [Celek], it was nostalgia and a tribute to his grandfather," Guri said about the mustache influence.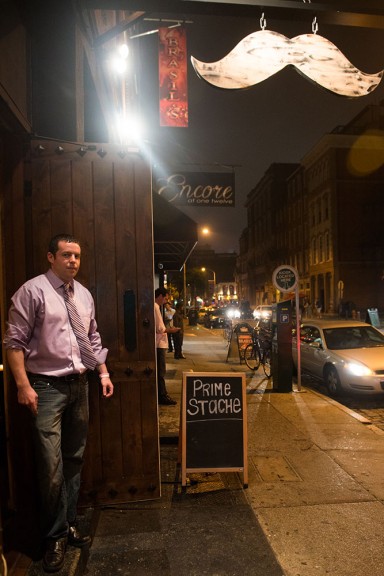 Celek's grandfather sported a handlebar mustache in the '40s and '50s and made a living as a street vendor selling hot dogs and sausages. As his first venture into restaurant ownership, it's fitting that Celek should look to another family entrepreneur for inspiration.
Prime Stache opened last April. There are no TVs on the first floor because the bistro wants patrons to focus on the food and drinks, but the second floor has been renovated with a TV to accommodate sports fans on game days or larger parties.
"We had three mock services at the end of April and then we went live," Guri said. "We had no idea what we were doing at that time, it was our third day, but we hustled and we made it happen somehow. A lot of that original staff is still here and remember our opening. It was crazy."
Guri may have questioned at first why a successful football player and a head chef with a steady job would want to enter into the demanding work of restaurant owning, but it didn't keep him from jumping at the opportunity.
"When they gave me the call, I was like, 'I'm ready,'" Guri said.
Guri said it's not usual to see an appearance from Celek in the restaurant.
"We don't have Eagles' jerseys on the wall, we don't have [Celek's] signature hanging up, but he is in here all the time," Guri said.
"I think opening [Prime Stache] shows his commitment to the city," Danny Glenn, a senior at Temple, said about Celek.
Glenn met Celek last fall while interning at The Children's Hospital of Philadelphia, where he hosted a radio game show with the footballer.
"Temple had just played Cincinnati [in football], so we were talking about that, kind of making fun of each other because Temple had lost, and this was during the time when he was injured and the Eagles sucked," Glenn said. "He's kind of shy, actually, and really just a country kid."
That "country kid" attitude may have carried over into Prime Stache, where pulled pork sandwiches, meatloaf and macaroni and cheese are staples and nothing is frozen. Everything is made to be eaten that day, a decision by Chang.
The bistro may be owned by a football player, but it is far from a sports bar, where the gameday essential Budweiser is not even offered. Specialty cocktails are available, however, to wash down the "Ron Burgundy," a pork sandwich.
"[Prime Stache has been] outstanding as far as growth, from there to here it is unbelievable," Guri said. "I cannot imagine the next six months, but we're blessed to have a wonderful chef and have [Celek] as a boss."
Sinead Cummings can be reached at sinead.cummings@temple.edu.