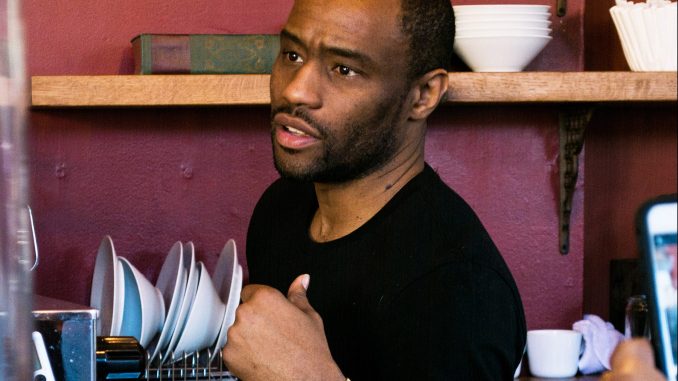 Uncle Bobbie's Coffee and Books is the culmination of a dream Marc Lamont Hill has had for more than a decade.
The stars aligned when Lamont Hill, an author, activist and CNN commentator, returned to Philadelphia last spring. A building at Germantown Avenue and School House Lane, which was previously home to a daycare center, opened up for rent.
After months of researching, planning and building, Lamont Hill, the first Steve Charles Chair in Media, Cities and Solutions in the Klein College of Media and Communication, transformed the space into Uncle Bobbie's Coffee and Books, which opened on Nov. 27.
He named the shop after his late uncle, Bobbie Lee Hill, a World War II veteran and the person he credits with exposing him to Black literature and critical thinking.
"He showed me how to look at the world through a critical eye," said Lamont Hill, a 2000 education alumnus. "He encouraged me to ask tough, unpopular, dangerous and sometimes counterintuitive questions about the world."
Lamont Hill also lives in Germantown and didn't want to have to leave his neighborhood to find a space like Uncle Bobbie's where he could hang out and connect with people through books.
"Toni Morrison said, 'If there's a book that you want to read, but it hasn't been written yet, then you must write it,'" he said. "I feel like if there's a space I want access to, for myself and my community, then I have to build it."
Uncle Bobbie's is one of the few Black-owned bookstores in Pennsylvania.
In December 2015, Ariell Johnson, a 2005 accounting alumna, founded Amalgam Comics and Coffeehouse on Frankford Avenue near Huntingdon Street and became the first Black female comic book store owner on the East Coast.
When Lamont Hill decided that he wanted to open Uncle Bobbie's, he stopped by Amalgam looking for some insight into the process of opening a bookstore and coffee shop from someone with experience.
Johnson herself had spoken in-depth with two other comic bookstore owners before opening Amalgam, and was happy to share her knowledge and experience with Lamont Hill.
"She's a genius and visionary," Lamont Hill said. "There's so much bureaucracy and logistical and practical challenges when trying to open up these places of coffee and literacy. She gave me great advice on how to navigate the process."
Johnson added that Black-business ownership is important.
"It feels like a tide is shifting and I want us to keep up the momentum," Johnson said. "As business owners, we make the decisions. We decide what goes on the shelves and we give a space and a platform to people who look like us to share and exchange ideas. It's empowering."
Lamont Hill selected all of the books available for purchase at Uncle Bobbie's. In addition to common genres like Humor, Personal Growth and Young Adult Fiction, rows of books are categorized under titles like Repression/Resistance, African-centered and Queer Studies, which many mainstream bookstores don't feature.
Tote bags, T-shirts and other merchandise with slogans, like "Black Father," "Don't Let These Degrees Fool You" and "Books Saved My Life" also line the shelves at Uncle Bobbie's. On the menu, Uncle Bobbie's offers a variety of coffee drinks and teas, sandwiches, soups and salads.
Asia Brown, a senior film and media arts major, got a sneak peek of the store a couple days before its grand opening last Monday. She and her stepmom, who are both Germantown natives, were driving in the area when they spotted Uncle Bobbie's with its front door wide open. The floor wasn't quite finished yet and Lamont Hill was busy talking to a contractor.
"They weren't open to the public yet, but my stepmom asked if we could just take a peek," Brown said. "Marc gave us a whole tour. We asked him when the grand opening was and he told us Monday, and added that it wouldn't be grand. Even then I knew he was wrong."
Tiffany Gill, an author and Africana studies and history professor at the University of Delaware, lives within walking distance of the shop. Gill was one of nearly 500 people who visited the store on its opening day.
"It's a beautiful space," Gill said. "The great natural light that comes in makes it very warm and inviting. It has a beautiful vibe to it. It feels like community, even though it's our first day here, it feels like home."
Lamont Hill plans to host community events both at Uncle Bobbie's and in the event space next door. On Friday, he hosted the shop's first free author reading, featuring writer and Rutgers University history professor Erica Armstrong Dunbar. Dunbar read from her book "Never Caught," which was a finalist for the 2017 National Book Award.
In addition to author events, Uncle Bobbie's will present film screenings, open mics, poetry slams and children's reading activities.
"I'm grateful for all the love that the community has been bringing into the space," Lamont Hill said.