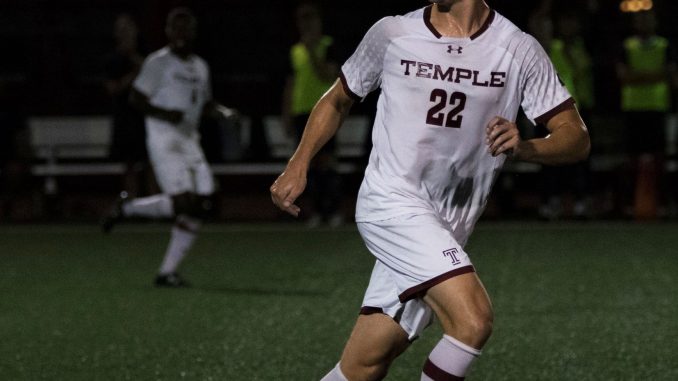 On Sept. 27, 2014, Mark Grasela assisted a goal in Temple's win against Cincinnati.
He wouldn't assist another for three years.
Now in his last season, the redshirt-senior defender feels like his career has moved too fast.
"I'm definitely going to miss it, and I'm going to make sure that I enjoy it because it really does go by quick," Grasela said.
Grasela redshirted his freshman season in 2013 because he didn't get any playing time. The Owls had a group of defenders, including four-year starters and twin brothers Nolan and Sawyer Hemmer, that only conceded 13 goals in 18 games. Grasela would be needed more once they graduated.
Since then, Grasela has become an integral player on Temple's back line. Grasela has been playing with a nagging foot injury this season, coach David MacWilliams said.
"I think he's a beast back there," MacWilliams said. "He's big, he's athletic, he reads the game, he competes. I think he's been one of our best players."
Last season, Grasela started all 18 games and logged 1,573 minutes, the fifth-highest total on the team. This season, he leads the team in minutes played and has started every game.
Grasela's desire to compete and his experience on the team led to him becoming a co-captain, MacWilliams said. He shares captaincy with redshirt-senior goalkeeper Alex Cagle, senior midfielder Brendon Creed and junior midfielder Hermann Doerner.
Grasela's contributions to the team this season have been documented on the stat sheets and through awards.
On Aug. 29, Grasela scored his first-career goal and the Owls' only goal in their win against Villanova. He also recorded an assist on Sept. 27 against Penn State.
"It's always good to get the stats," Grasela said. "I mean, being in the back, you can't really do much. You're kind of stuck there, so when you do get the opportunity and you do get the chance, it's a good feeling."
For the week ending on Sept. 4, Grasela earned the Philadelphia Soccer Six Defensive Player of the Week award. Grasela and MacWilliams hope he earns recognition from the American Athletic Conference by the end of the year.
"I think he's one of the toughest defenders in our league right now," MacWilliams said.
"Mark has come a long way in the five years," MacWilliams added. "I think Mark has really matured. His touches have gotten better, his decisions have gotten better, and I think overall his game has improved a lot."
Grasela hopes to continue to improve through Temple's seven remaining games, including Tuesday night against Drexel. He also hopes the regular-season competitions are not the last games he plays.
After Grasela's redshirt season in 2013, Temple made The American's tournament in 2014 and 2015, but it missed it last season. Grasela hopes the team can make the postseason again this year.
But whether the Owls make the tournament or not, Grasela still wants to play at least at a semi-competitive level in the future.
"I just love the feeling that you get when you're playing," Grasela said. "You pretty much forget about everything. You lose all the stress from school and all and family problems and all that, and you basically forget about it all and go play."