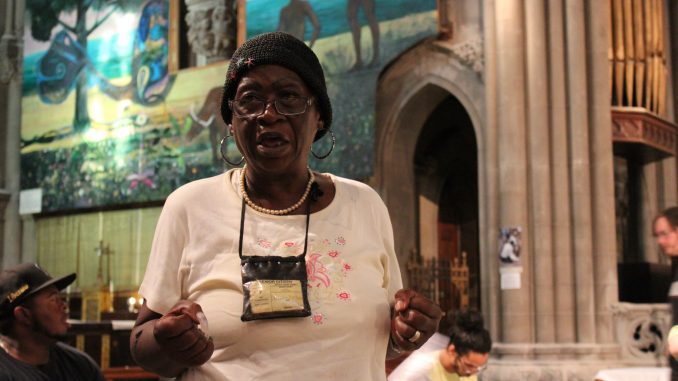 After taking the microphone, Wende Marshall asked the crowd of about 25 seated before her on Wednesday in the Church of the Advocate what they wanted the Stadium Stompers to look like in eight months.
Marshall is an adjunct professor of intellectual heritage at Temple and one of the leaders of the Stadium Stompers, a group of community residents and students who oppose the proposed on-campus football stadium.
The organization planned a demonstration for the Homecoming golf-cart parade on Friday at the Bell Tower.
"We're just trying to send our message and make sure that people understand what an inconvenience and what an issue the stadium is and would be," said Anna Barnett, a senior women's studies major.
"Our goal is to improve the area through the people of the area," said Philip Gregory, a junior English major. "Our goal is to stomp the stadium."
The church, on 18th and Diamond streets, was quiet during the meeting, but still held an atmosphere of confusion about what was happening next. Attendees suggested that the group reach out to Jeffrey Lurie, owner of the Philadelphia Eagles, and Richard Englert,  Temple's acting president. But the ideas were shot down as unnecessary.
Chuck Cannon, a 2015 anthropology alumnus, said he felt that the change of presidents over the summer had no effect on the stadium plans, and communication with the Board of Trustees was more important to accomplish their goals.
"When we try to go to some of the Board of Trustees meetings, there is a cadre of Temple Police officers blocking us," said Jackie Wiggins, a 32nd Ward leader, 11th division committeeperson and member of the Stadium Stompers.
"Whether or not it's a public or private event, a lot of times police will block us," said Barnett. "It always seems to be less about what's legal and more about what Temple wants to permit us to do."
Members of the Stadium Stompers also brainstormed ideas to get Temple students more involved with the anti-stadium movement. Kwesi Daniels, a geography and urban studies Ph.D. candidate, said he wants to get Temple football players involved in the movement.
"Temple football players need to recognize the steps that professional players, like Colin Kaepernick, are taking in terms of speaking out against racial discrimination and the historical racism within society," Daniels said.
"I think that Temple tries to send a message that the stadium is for football players and that they really value these athletes," Barnett said. "We want to reach out to Temple football players because we think that they should be against the stadium."
"They should realize that they have a lot of power and they should be ready to use that power, just like you see on a national scale right now [regarding Colin Kaepernick]," Barnett added.
"[Football players] need to take it upon themselves to help end acts of racism in North Philadelphia by supporting the Stadium Stompers," said Daniels.
Nathalie Swann can be reached at nathalie.swann@temple.edu.