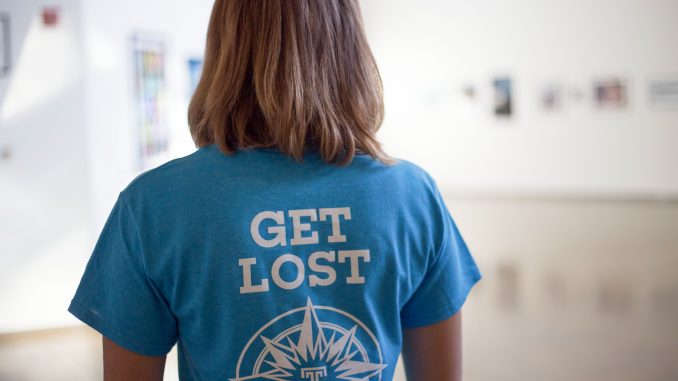 Creativity remains at the heart of Temple University Rome, which was founded as an art school in 1966.
Students, staff and alumni of Temple University Rome will celebrate its 50th anniversary this year with a school year-long series of events, including a week in May of special programming in Rome.
"It will be a really exciting week," said Hilary Link, dean of Temple University Rome. "We hope that hundreds of alumni and their families will come."
Link said artistic expression and appreciation remain important parts of Temple University Rome, and the anniversary celebration will be no exception.
Link said the anniversary programming in Rome will include art events, local music events, special excursions, alumni and student panels. Alumni will also have the opportunity to take classes with some of their favorite Temple University Rome professors.
The official finale of the anniversary celebration will be a gala dinner overlooking Rome on May 17, but optional special excursions to places like Tuscany, Pompeii and Naples will continue over the following three days for students and alumni.
"Whether [students are] here studying international business or art history or Italian or sociology or whatever they're doing, [Temple University Rome] is an artistic and creative enterprise at the heart of what we do," Link said.
"It's a way for alumni to kind of relive those experiences and their time at Temple Rome," she added.
Link said having "one of the oldest and most respected [study abroad] programs in Italy" is an asset for the university as a whole. Events on Main Campus, including the Festa di Roma last Wednesday, exist to showcase the work of Temple University Rome alumni.
Alex Bruce, a junior graphic design major, studied abroad at Temple University Rome in Spring 2016, and his work was featured at Festa di Roma, an annual exhibition hosted by Tyler School of Art to highlight student artwork created at Temple University Rome.
"Part of what's cool about being an art student in Rome is that in addition to being able to travel throughout Europe and meet a whole community of new people, you also get to take classes that are suited to the environment and really enrich the whole experience," he said.
Three of Bruce's pieces and two of his sketchbooks were on display at Festa di Roma. One piece, his "Postcard Project," was inspired by a visit to the Baths of Caracalla. He said he created a postcard for the baths because it's a lesser-known attraction far from the busy roads of Rome.
Walking through the ancient baths was one of many times Bruce said he was inspired by his experiences. Every project he completed for his printmaking class abroad was inspired by something he saw while exploring Rome or other European cities with friends.
"I was able to bring [those experiences] back and create something immediately in response to it," he added.
Festa di Roma also featured pieces from "Tiny Biennale," a series of miniature artwork created by Temple University Rome students.
Link said the best part of her job is watching students grow and take that back to Main Campus.
"[Students] learn material in very different ways here and it's fun to see them take that back to their campus in the states and use that in different ways," she said.
Link said in addition to the 50th anniversary programming, she is working on several plans for the future of Temple University Rome, like new programs for students in the College of Engineering and the School of Tourism and Hospitality Management, and even student athletes.
She said they are also working to expand internship opportunities in Rome and hopefully open classes to Italians and other non-Temple students.
"This is a really special place," Link said. "One of the really amazing things about coming to Temple Rome is that it's a little bit of Temple in Europe. For people who have never been abroad or are nervous, it's a comfortable base from which to go out into the city and immerse themselves in Rome."
Bruce said the 50-year history of Temple University Rome is important because of how many people have gone through the program.
"It's got this legacy feeling to it," he said. "It feels like being a part of another smaller school within Temple where everyone has a shared experience of being there, even if you weren't there at the same time. … It's an exciting way to relate to people."
Erin Moran can be reached at erin.moran@temple.edu.