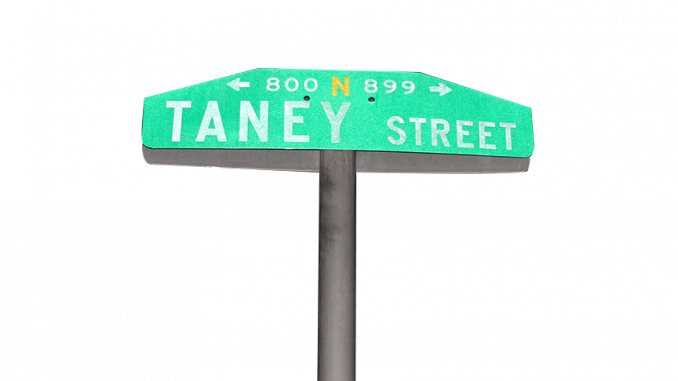 George Basile is no stranger to political activism.
Last year, he called for an expansion of Tuttleman Counseling Services and campaigned for on-campus recovery housing as a member of Parliament.
Now, the senior political science major is taking his activism beyond Main Campus.
"My parents raised me to understand that people are coming from different aspects of humanity, and some of those were born out of systemic biases," he said. "My action was really born out of that."
This August, he started a Change.org petition to rename Taney Street, which is named for Supreme Court Chief Justice Roger Taney.
In 1857, Taney authored the Dred Scott decision, which said that Congress had no power to abolish slavery and that Black people could not become American citizens because slaves were considered property.
"This is not someone worth celebrating, let alone having a street named after," the petition read.
It was considered a landmark case because it established the federal government's stance on slavery. The Dred Scott decision was overturned in 1868 when the 14th Amendment gave all people born in America, regardless of race, legal citizenship.
"I wondered, 'How come we have a street named after the guy who wrote the Dred Scott decision in a city that prides itself on very progressive ideals?'" Basile said.
In his petition, Basile proposes an alternative namesake for the street: Mo'ne Davis.
Davis, a former pitcher for the Taney Dragons, led her team to victory in the 2014 Little League World Series when she was 13. She was the first African-American girl to play in the Series. Basile said he chose her due to her close connection to Taney Street and Philadelphia.
"I was floored by Mo'ne in 2014 when she took down batter after batter in the Little League World Series," he said. "I want to shift reference away from Justice Taney and to greater figures like her."
Basile's petition has garnered 274 signatures of its 500-signature goal as of Monday. Basile has also been contacted by Mayor Jim Kenney, who voiced support of the petition in an email that Basile posted on social media.
But the battle is far from over.
North Taney Street runs through the 5th Council District, and South Taney Street runs through the 2nd.
To rename the street, Councilmen Darrell Clarke of the 5th District and Kenyatta Johnson of the 2nd District would have to pass an ordinance in the city council.
In an effort to officially change the street's name, Basile emailed Gov. Tom Wolf, and Sen. Bob Casey and asked them to help with his efforts.
"Sen. Casey has been an advocate for issues affecting people of color, especially in Philadelphia, and Gov. Wolf has an incredibly progressive agenda that would include a name change like this," Basile said.
The average time for a change like this is between three and four months, but that's a hopeful estimate, Basile said.
"I definitely think it will get done," he added. "At what point, I'm not sure, but definitely within this year."
Jess Gates, who has lived on North Taney Street with her husband since 2013, said that the name of her street has always made her uncomfortable.
"This isn't the city of brotherly love," she said. "As a Black woman, I feel unwelcomed by the name. The history is shocking to me."
"I'm glad this student is doing this," she added. "When I get home, I'm going to make sure everyone around here signs [the petition]."
Kat Burlingame, who signed Basile's petition, has lived on North Taney Street for two years. Shortly after she moved there, she researched its name — and was bothered by her findings.
"I'm a librarian, so naturally I hit the archive, pouring over old maps, census data and newspapers. I found zero significant connection between Taney and the city of Philadelphia," she said. "For all it seems, Taney never even set foot in Philly."
"An address is a personal thing," she added. "I'm constantly writing and typing 'Taney' on forms. It irks me, and I'm a white person. I can only imagine how much it could bother someone who has been negatively affected by the legacy of Judge Taney's decision."
Last winter, Burlingame used an online message board to pitch her neighbors an idea: changing their street name to remember someone with a connection to Philadelphia.
"Boy, did they care," she said. "There was support, but also a lot of pushback. The debate got a bit nasty. I was confused as to why this caused so much passionate disagreement from non-Taney residents."
Basile said he has received some backlash from people accusing him of trying to "erase American history" after he published his petition.
"I think we can learn from how Justice Taney so heinously wrote the Dred Scott decision," he said. "We just don't want that reference on the streets of Philadelphia."
Another online petition, established on MoveOn.org last July, calls for Taney Street and Taney Park to be renamed for Octavius Catto, a Philadelphia activist who was shot dead in 1871 while he was rallying for the right of African-Americans to vote. The petition fell shy of its 100-signature goal, collecting 77 names. Burlingame signed that one, too.
"I'm happy with any change to honor a more locally significant person, especially if that person represents the diversity and positivity of our community," Burlingame said. "Mo'ne Way? That has a nice ring to it."