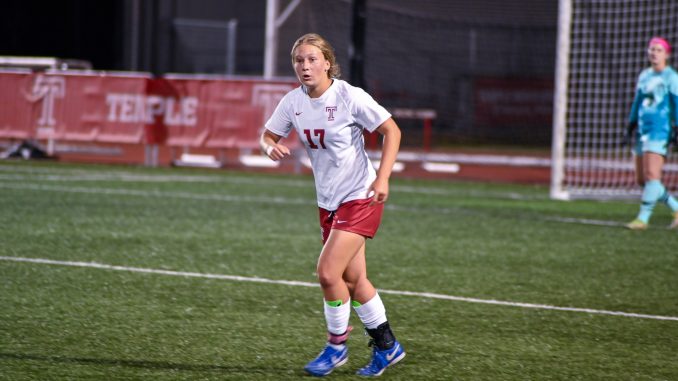 Temple Women's Soccer (1-5-3, 0-1 American Athletic Conference) opened AAC play with a 2-1 loss to South Florida (4-4, 1-0 American Athletic Conference) Thursday at the Temple Sports Complex.
The Owls lost their 10th consecutive conference matchup, but held their own against the Bulls, who were projected to finish first in the east division in the AAC preseason rankings.
KEY MOMENTS
In the 6th minute, South Florida forward/midfielder Gentiana Fetaj attempted to score, but Temple goalkeeper Taylor Vecchione deflected the ball and hit the top crossbar. Forward Anna Sutter got the rebound and scored to give the Bulls the 1-0 lead.
Three minutes later, Owls' midfielder Alexa Swetz slid into Bulls' defender Vivianne Bessette and drew a yellow card and a penalty kick. Bessette drilled the ball straight through the middle of the goal to give the Bulls an early two-goal lead.
South Florida defender Georgia Brown collided with Temple forward Shari Atkins in a steal attempt in the 35th minute. Atkins, a freshman from Maryland, laid down on the field with an injury and was helped by trainers a few minutes later, unable to put weight on her left leg.
In the 63nd minute, Bulls' forward Peyton Vincze fouled Owls' forward Nicole Sweeney in the penalty box. For the penalty kick, Sweeney snuck the ball past Bulls' goalkeeper Leire Herraez Gallach to cut Temple's deficit to 2-1. This was the first time the Owls scored via a penalty kick this season.
THE NUMBERS
South Florida controlled the pace during the entire game, racking up 19 shots compared to Temple's nine.
Both teams played physically. The Bulls finished with three yellow cards after 90 minutes, while Temple had just one.
Vecchione earned nine saves, and Gallach saved five shots on goal.
ON TAP
The Owls will stay home and face city rival Penn (4-2-1, 0-0 Ivy League) Sept. 17 at 1 p.m. at the Temple Sports Complex.