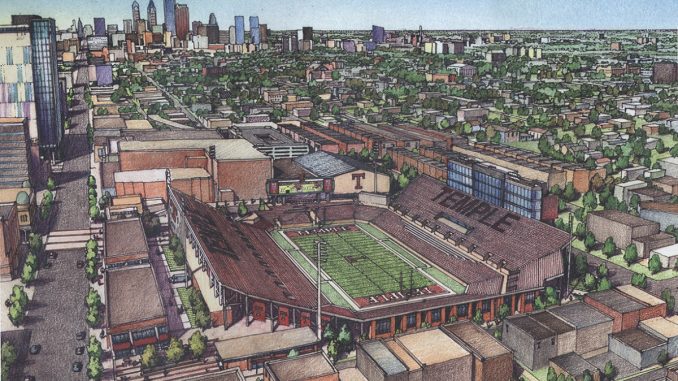 Updated at 2:11 a.m. on Feb. 11.
Temple and the Philadelphia Eagles agreed to a five-year contract extension for the Owls to play in Lincoln Financial Field, the university announced Monday.
The university did not comment on how much it will pay per year to lease the Linc, but previous reports suggested it could be as high as $3 million. Previously, Temple paid $1 million a year. The contract also includes an option to extend the contract to five more seasons after 2024, according to the release.
The Owls played at the Linc since 2003. The previous contract was set to expire in 2017 but was extended to include the 2018 and 2019 seasons.
The news comes amid uncertainty over the university's plan to build an on-campus stadium, which has been met with staunch opposition from community residents who said it would add to noise and trash issues that affect the North Philadelphia community.
The university hoped to file its stadium proposal with the City Planning Commission in June 2018 but missed its self-imposed deadline as it continued to work on winning over community residents, The Temple News reported.
"We are thrilled to reach agreement with the Eagles, and we look forward to more home games in the top-quality facility that is Lincoln Financial Field," said Temple President Richard Englert, according to the release.
Jackie Wiggins, a leader with Stadium Stompers, a local group of residents, students and faculty who oppose the proposed on-campus stadium, declined to comment.
City Council President Darrell Clarke, whose district encompasses Main Campus, declined comment.
"This is a great development and an outcome that I was hopeful could be achieved," wrote State Rep. Malcolm Kenyatta, whose district encompasses Main Campus, in an email to The Temple News. "The community has spoken loudly and clearly about not having a stadium in the middle of a residential neighborhood."
"However, I've always wanted to make sure Temple was getting the best deal with the Eagles — and all indications are that they have reached such a deal," Kenyatta wrote. "I look forward to continuing my work with Temple in the spirit of mutual trust and respect on the many other issues of common ground."
Kenny Turner, a board member of the North Central Special Services District, said he believes Temple still plans to build the stadium but will work on making improvements to the community first.
"You didn't get that extension for nothing," Turner said. "You got that extension for a reason. You got that extension to let things die down, to see how the university can further work with the community so that they can build this stadium without opposition."
Community residents have not been talking about the stadium as much recently, Turner added.
"You mention the stadium, and the conversation goes nowhere," he said. "It used to be, 'Over my dead body, as long as I'm living, a stadium will never be built on that corner.'"
Charlotte Savage, another board member of the SSD, said she agrees that Temple is delaying their construction of a stadium, but disagrees that opposition to the stadium has died down.
"We never can get weary of fighting against it," Savage said. "We'll continue to fight, and hopefully, our voices are heard."