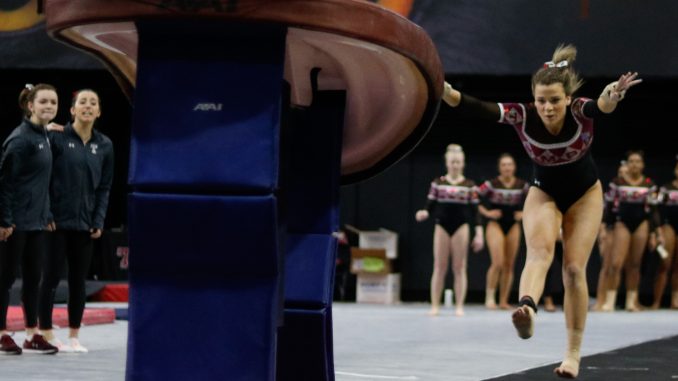 Temple (18-17) finished last in a six-team field at Saturday's Eastern College Athletic Conference Championship hosted by Penn at The Palestra.
The host Quakers finished fourth with a score of 193.200. Yale University won its second consecutive title with 195.325 points to beat out the College of William & Mary and Brown University.
Temple's score of 192.675 was 0.475 points fewer than fifth-place Cornell University's 193.150. The Owls' score was also their second-lowest mark of the season. Only their score of 191.575 on Jan. 14 at a meet hosted by Towson University is lower.
In the final regular season meet on March 16, Temple scored above the 195-point mark for the first time in program history on the road. The Owls also increased their regional qualifying score to above 195 for the first time in program history.
Though it posted one of its lowest scores of the season on Saturday, Temple still made history during the conference meet. Sophomore all-around Daisy Todd became the first ECAC vault champion in program history.
Her score of 9.825 helped the Owls post a 48.9 on the vault, which set a program record for the highest vault score at an ECAC Championship.
In recognition of Temple's accomplishments this season, the ECAC named Umme Salim-Beasley the Coach of the Year.
Temple had another top-three finisher besides Todd on the vault. Senior all-around Sahara Gipson tied for second with Cornell freshman all-around Amy Shen and William & Mary freshman all-around Katie Waldman.
Freshman all-around Tori Edwards contributed to Temple's total with a 9.775 on the vault, which tied for fifth with sophomore all-around Jaylene Everett.
Edwards suffered an injury during the uneven bars rotation, where she finished second to last. Edwards was scheduled to compete in the all-around, but the injury prevented her from competing on the floor and beam and left Temple without a significant contributor.
In the final regular season meet, Edwards scored a season-high 9.8 on the beam on March 16 against Kent State University and George Washington University. During the regular season, she scored 9.9 on the floor against Penn and the University of Maryland on March 9. Everett was the only Owl who scored higher on the floor during the regular season.
Everett helped Temple score a 48.7 on the floor by posting a 9.825. She and junior all-around India Anderson each won bronze.
The Owls recorded a score of 48 on the balance beam. Sophomore vault, beam and floor competitor Kerra Masella tied for 10th and recorded Temple's highest score.
Temple's lowest score came on the uneven bars. The team's 46.90 ranks as its lowest this season.