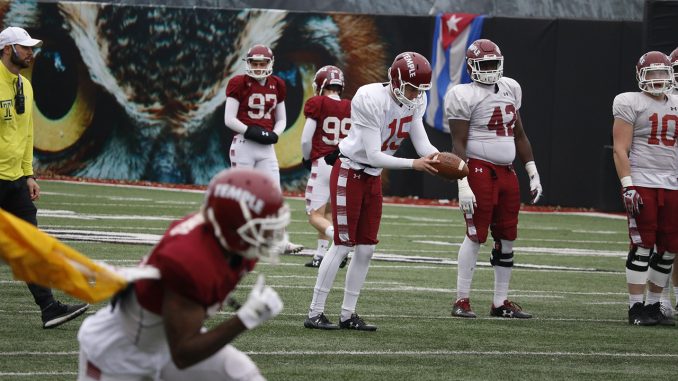 A four-way competition to replace former punter Alex Starzyk is underway during spring camp.
There is no clear frontrunner between redshirt freshmen Connor Bowler, Drew Levin and Max Cavallucci and redshirt sophomore Zach Kirby, tight ends and special teams coach Ed Foley said. All four players are walk-ons.
"Every day there's a different guy that does a little bit better than the others," Foley said. "Obviously, that's something that we've got to sort out. I'm not panicked about it right now, but as we come down, I'm telling these guys, 'Hey, someone's going to have to take the lead on this thing and let's go win the job.'"
Whoever wins the job will replace Starzyk, who joined the team as a walk-on and earned the starting spot in 2014 over Tyler Mayes and Colby Perry.
Starzyk held the starting spot for all four of his seasons. He averaged 40.4 yards per punt last season. In 2015, he averaged a career-high 42.4 yards per punt and had a career-best 13 punts of 50 yards or more.
Starzyk often helped the Owls flip field position. In 52 career games, he recorded 75 punts inside of the 20-yard line.
"You get spoiled," Foley said. "You have a starting punter for four years. You forget what it was like when Starzyk was a freshman, but all the things that he learned not just in punting the ball but in working within some of the things that we do and became very good at it. So we'll have big shoes to fill there, but I feel really good about the situation."
At the beginning of spring camp, Bowler, Levin, Cavallucci and Kirby averaged about 35 yards per punt, Foley said. Now, they're averaging about 40 yards per punt.
Kirby joined Temple in January. He has experience punting at Erie Community College in New York and the University of Wisconsin Lacrosse.
Levin and Cavallucci, who is a graduate of Cheltenham High School in Montgomery County, each joined the team in Fall 2017.
Bowler has been at Temple the longest of the four punters, as he joined the team in Summer 2017. He said he wasn't ready to play last year, but he took the time to learn from Starzyk and watch other Division I punters.
He wants to gain weight so he can increase his kicking distance. More weight adds power, Bowler said.
The coaches want all of the punters to average 40 yards and a 4.2-second hang time, Bowler said. He wants to average about 4.5 or 4.6 seconds.
"I just got to focus on getting through the ball more, getting a bit more height, a bit more distance and a little bit more consistent," Bowler said. "I think that's where I've been struggling a little bit."
As the competition continues, Foley will evaluate who has a good operation time, or how long it takes to catch the snap and kick the ball. He also wants someone who can pin opponents deep in their own territory, kick the ball 45 yards through the air and execute rugby-style punts.
"To have them all with a guy who's a freshman or a guy that's new in the program, we may not be able to do everything that we've done or everything we want to do right away," Foley said. But they're all learning on doing that."
"I'm not concerned at all about our punting situation in terms of whether they're going to be good or not," he added. "I just want to get the best guy out there in fairness to the process and making sure that we're doing that."