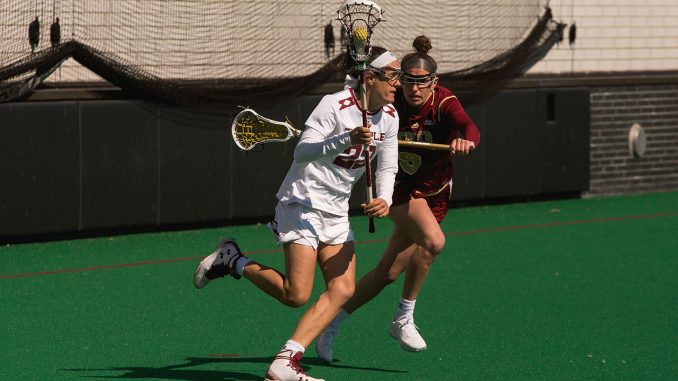 Temple will not be travel to Florida for the Big East Conference tournament at the end of its final season as a member of the league. The Owls (9-8, 4-5 Big East) took the fifth spot in the Big East, missing the playoffs by one position.
Temple entered the last day of the season with a chance to make the postseason. The Owls needed the University of Denver and UConn to lose on Saturday, and they needed to beat Georgetown University. Denver (11-5, 6-3 Big East) beat Vanderbilt University, and Temple lost, 15-8, at Howarth Field.
"The most important thing that we have for all of our returning players [is] that they actually take some time to digest what they've accomplished and where we fell short and learn from it," coach Bonnie Rosen said.
"There's a lot of sadness," sophomore midfielder Maddie Gebert said. "It sucks, how fast it flies by."
Temple will return its top three goal scorers, including Gebert, for the 2019 season. It will be Temple's first season in the American Athletic Conference, which will begin sponsoring women's lacrosse next year.
Ten true sophomores, all of whom played this season, are among the Owls' returning players. They include Temple's scoring and points leader, assists leader, starting goalkeeper and draw controls leader.
Sophomore attacker and midfielder Olivia Thompson finished third on the team with 18 goals, including hat tricks in back-to-back games against St. Joseph's and Lafayette University in February. Sophomore midfielder Meghan Hoffman led Temple with 12 assists.
Gebert led Temple in scoring in 2018 with 33 goals and added seven assists for a team-high 40 points. Three of her goals were game-winners, including a score in a double-overtime victory against Cincinnati on March 24.
Gebert had a point in every game and scored in every game except Temple's 17-4 loss to Princeton University on Feb. 17 at Howarth Field.
"I had a goal to do my best this season," Gebert said. "So I guess that worked out, but I didn't really have a goal for this season as far as scoring or doing anything else. I knew I wanted to make an impact as much as I could."
Gebert said she wants to improve her defense for next season. She was caused 12 turnovers this year.
Sophomore goalkeeper Maryn Lowell started every game except the season finale. She had 146 saves and a .483 save percentage this season.
Defender Kara Nakrasius served as the Owls' youngest captain this season. She led the team in draw controls with 64 and ranked second behind senior defender Nicole Latgis in both ground balls and caused turnovers.
"Being a co-captain with her this year and being one of my closest friends, it's so cool to watch her grow," senior attacker Kira Gensler said. "So I'm excited for her to step into an upperclassman role."
Next season, Temple will be in The American with East Carolina, Connecticut, Cincinnati, Vanderbilt University and the University of Florida. The conference winner will receive an automatic bid to the NCAA Tournament.
Temple played against every member of the future American Athletic Conference this season. Every team except East Carolina was part of the Big East Conference schedule.
The Owls went 3-2 against their upcoming conference rivals.
"Next year will certainly be different with a lot less teams in the conference, but teams that we know very well," Rosen said.