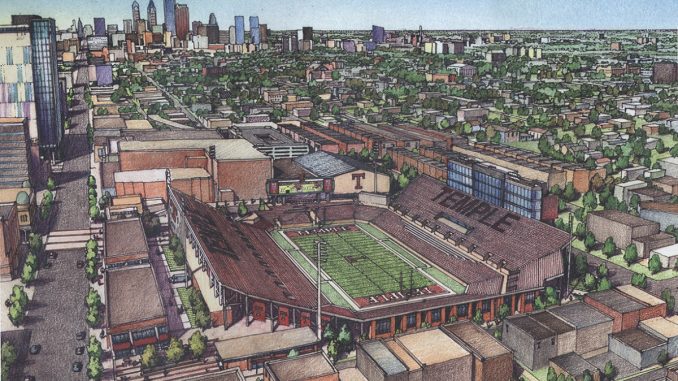 Temple University's on-campus stadium proposal is delayed and will not achieve its goal of filing with the Philadelphia City Planning Commission in June, a university official said.
Bill Bergman, vice president of public affairs, said in a meeting with The Temple News on Friday that the university will delay its submission and continue to meet with residents during the summer.
In March, Bergman said the university would meet with residents, work to complete a community benefits agreement and finalize its proposal to City Planning by the end of this month.
"We're not there yet," he said during Friday's meeting. "We continue to work with neighbors, talk to neighbors. We're really looking at what we need to do this summer."
Bergman did not comment on how much longer Temple will delay its City Planning submission.
"I hope to have it submitted as quick as I can," he said.
A majority of concerns Bergman has heard from recent meetings with community residents are about trash and student conduct in the neighborhood — a longtime concern of North Philadelphia residents who live near Main Campus. Residents question how the area can handle a stadium if these concerns aren't being met already, he said.
Bergman added that a community benefits agreement would be the solution to many of these issues and that it would need to be completed before the university submits its proposal to City Planning. He could not cite a specific date when the university would engage with community groups to start planning the agreement, but he said the process is "ongoing."
The university has not met with city agencies, like City Planning, since the spring. City Council President Darrell Clarke, who also represents the 5th District, where Main Campus and the proposed stadium site are located, told The Temple News in March through a spokesperson that he would not support the university's plan for an on-campus stadium.
Clarke's office did not immediately return requests for comment on Temple's City Planning submission delay.
Bergman said he does not see the value in speaking directly to Clarke about the stadium because he believes the councilman would be best convinced of its merits by winning over the community.
There are currently no future meetings with community residents planned to focus on the stadium, Bergman said. There will be, however, future meetings with a general scope of "how to improve the neighborhood," he said.
"I don't think you ever get the entire community, but we need to get more people to the table, and really get a better understanding of where we stand," he added.