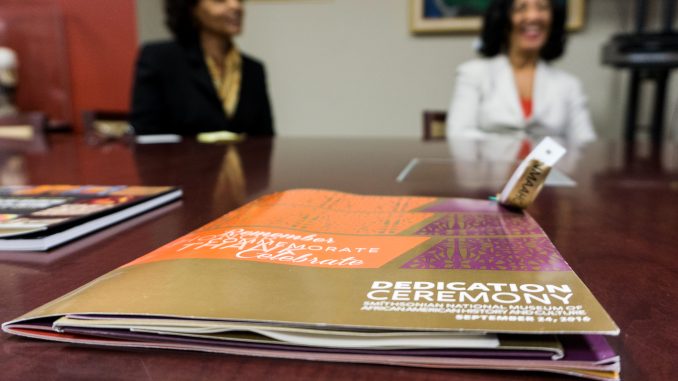 Although she could not read, Harriet Tubman kept a well-worn hymnal close for inspiration. She and Charles L. Blockson, founder of the Charles L. Blockson Afro-American Collection in Sullivan Hall, share the same favorite hymn: "Swing Low, Sweet Chariot."
Tubman's 8-by-5-inch book containing the hymn was among more than 500,000 items and artifacts in the Blockson Collection until Blockson donated the book, along with 38 more of Tubman's belongings, to the Smithsonian's new National Museum of African American History and Culture in Washington, D.C.
Among those were Tubman's shawl and embroidered collars, which Diane Turner, curator of the Blockson Collection and 1983 anthropology and art alumna, said impressed her the most.
"You have this woman who was a little over four feet tall and she was just courageous to go back in the South and help liberate enslaved Africans, but she was still a woman and she liked feminine things too," Turner said.
Aslaku Berhanu, the Blockson collection's librarian, said Blockson told her that he thought the Smithsonian Institute was a perfect place to donate Tubman's shawl, which was given to her by Queen Victoria of England in the 1890s.
"He said the reason he donated the items … was for the public to remember and learn [African Americans'] history," Berhanu said.
In 2009, the Blockson Collection hosted an event for Women's History Month that displayed all 39 items. Meriline Wilkins, Tubman's great-great-niece, "bequeathed" the items to Blockson, Turner said. The next year, the items were donated to the Smithsonian.
Turner said so many people came to see the items that they could barely move throughout the exhibit.
"Women still aren't given the credit they deserve, and here you have this woman back in the time during slavery who's not only a woman, but an African-American woman, who starts out as an ordinary person," Turner said. "She becomes extraordinary because she takes a stand to do the right thing."
"I think it's a good example, especially in the times that we live in," she added. "If you just take a stand and say, 'That's not right,' it really can make a difference."
Turner hopes the donation will help museum visitors know "the truth" about American history, which includes a better understanding of the experiences of African Americans, she said. The museum will cover African American history and culture from slavery to the modern day, including the ongoing Black Lives Matter movement.
"Unfortunately, for many years there was only one viewpoint that was considered important," Turner said. "In order to understand American history, you have to see it from different vantage points."
"You have these layers and layers and layers of truth," she added. "But if you exclude any of them, then you get a false view of American history."
Turner said Temple was well-represented at the dedication ceremony in Washington, D.C. Blockson, along with H. Patrick Swygert, a former Temple administrator and singer Patti LaBelle, who received an honorary degree from Temple in 2010, were all at the event.
The museum, which opened on Sept. 24, also features a copy of poet and professor emeritus Sonia Sanchez's 1970 piece, "We a BaddDDD People." Sanchez is Philadelphia's first poet laureate and Temple's first presidential fellow.
Sanchez taught both graduate and undergraduate courses in Temple's English department for 20 years.
Other Philadelphia ties in the museum include a display on West Philadelphia hat-maker Mae Reeves and a money box used by Bishop Richard Allen, a Philadelphia native who founded the African Methodist Episcopal Church in the early 19th century.
Berhanu said the donation will lead to more opportunities for collaboration between the Blockson Collection and the Smithsonian and connect the collection to a larger network of institutions and contributors.
"You cannot respect people unless you understand their history," she said.
"African American history is American history," Turner added. "It's for everyone. Every group of women here in the United States should feel a sense of pride that here's this woman who stood up for what was right."
Erin Moran can be reached at erin.moran@temple.edu.