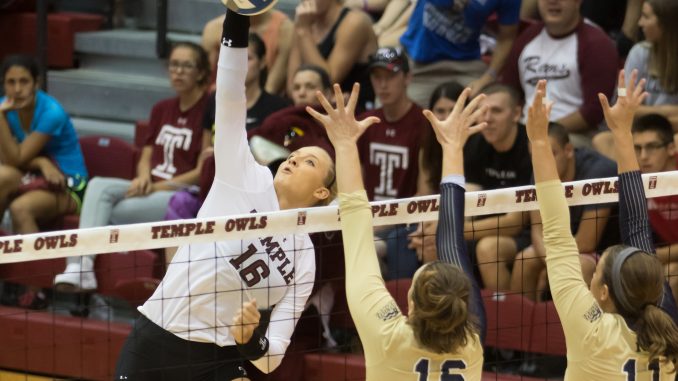 Temple swept Northeastern University 3-0 at the Maryland Invitational to earn its first win of the 2017 season.
"The team was anxious to play, so I think they were happy to execute the game plan we've been working on for the past two and a half weeks," coach Bakeer Ganesharatnam said. "Overall as a team, we looked good. Our movement and blocking really helped us."
Junior middle blocker Iva Deak had a game high seven blocks to lead the defensive effort. Deak's solo block in the second set gave Temple an 8-7 lead, its first lead of the set, which the Owls never relinquished.
Junior libero Mia Heirakuji also contributed on defense with 12 digs.
As a team, the Owls kept the Huskies from scoring efficiently and forced Northeastern to hit at just 3.6 percent. Temple ended with 11 blocks and 51 digs total while holding the Huskies to 27 kills through three sets.
Not only did Temple defend well against Northeastern, but the Owls also hit 27.7 percent for the match.
"Our hitting percentage was remarkable," Ganesharatnam said. "We got very efficient production from the middles."
Senior middle blocker Janine Simmons led the way in hitting efficiency at 53.8 percent. Simmons ended the match with 8.5 points on seven kills.
Senior captain Izzy Rapacz led all scorers with 14.5 points on 11 kills, four blocks and an ace. Rapacz also added 10 digs, capturing her first double-double of the season.
Sophomore outside hitter Dana Westfield was the only other Owl to reach double-digits in points. She contributed 10 kills and an assisted block, but also led the team with five attack errors.
"It's just the first game, but we really need to work on preventing unforced errors and serving more aggressively," Ganesharatnam said.
Although Temple scored four aces, it also had four service errors. The Owls ended the game with 13 attack errors.
Temple will look to tidy up its play in its next match against the University of Maryland Baltimore County on Saturday.
The Retrievers lost against the University of Maryland, 3-1, in their first game of the season. After Temple takes on UMBC, it will finish off the tournament in a match against Maryland later that evening.