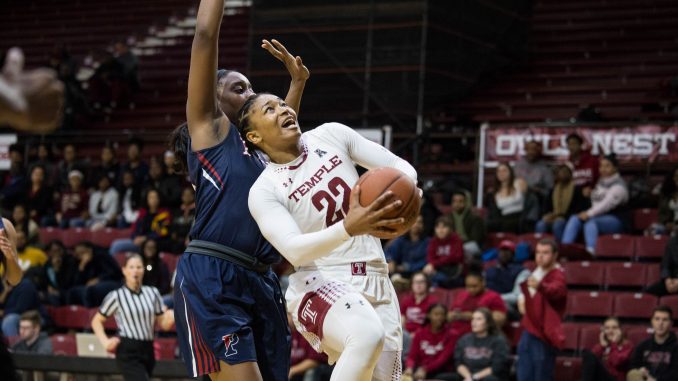 It didn't hit guard Mykia Jones that her college basketball season was officially coming to a close until about a minute and a half was left in Sunday's American Athletic Conference quarterfinal against Central Florida. The Owls were down by nine points, and it seemed unlikely that they'd come back.
Jones, a graduate student, was fouled with nine seconds to go. As she took her three free throws and realized she could only pull Temple within five points, her eyes started to fill with tears.
After beating No. 6 Wichita State in the first round on Saturday, Temple couldn't pull off a second upset against No. 3 Central Florida and lost 77-70 at Mohegan Sun Arena in Uncasville, Connecticut.
While at the free-throw line, Jones looked over and saw fellow senior teammates Tanaya Atkinson and Khadijah Berger. Atkinson looked at her and told her it was OK. It was then that Jones saw Atkinson tearing up as well.
"As soon as I stepped off the floor, I cried," Atkinson said. "But it's not crying because we lost. It's just crying because of all the good things we did."
The Owls were seeded 11th in the tournament after finishing the regular season with a 3-13 conference record, but they hung with the Knights. In the first quarter, Temple outscored Central Florida 19-10 and at halftime, the Owls were down by just one point.
Central Florida pulled away in the third quarter, and going into the fourth, the Knights led by nine. Central Florida's lead grew to as many as 18 points in the fourth quarter, but by the final nine seconds, the Owls had pulled within five.
"You could tell by the way my team played today that we really started to get it down the stretch," coach Tonya Cardoza said. "I'm really proud of the fight that we had. Coming in here, only winning three games in conference, but you would never be able to tell that by the way that we play."
Atkinson pulled in a game-high 17 rebounds and scored 20 points to record her 17th double-double of the season. Her 17 rebounds set a single-game conference tournament record.
In the first half, Central Florida's defense held Atkinson to just two points, but she scored 18 in the second half.
After this performance, Atkinson sits in second place in Temple history in both points and rebounds. Over the course of her four years, Atkinson scored 1,890 points and brought in 1,053 rebounds.
"From the day she stepped on campus, our program got better," Cardoza said. "This year, she had to be the go-to guy every single night, and I felt like every single night, she stepped up."
Jones also ended her Temple career with a strong performance. She scored a season-high 18 points and hit five 3-pointers.
Freshman guard Mia Davis also scored in the double digits, contributing 10 points while adding five rebounds.
Though Temple's offensive performance was strong, the Owls struggled with turnovers. Temple gave the ball up 23 times, and the Knights capitalized on its mistakes by scoring 25 points off turnovers.
"You look at the score and we lost by seven and you gave up 25 points by turnovers and the game is right there," Cardoza said.
While Temple's season is over, the team is looking forward to next season and sees a lot of potential success for future campaigns. Atkinson noticed growth in the team's younger players during the final two games of the season.
"I feel like they decided that they really wanted to play for the seniors," Atkinson said. "Even if they didn't score a point, they played, they hustled for every loose ball, they tried to get every rebound. Even in huddles, they would talk before I would talk, and I think that's a lot of growth."
Cardoza knows she and the team will miss contributions from Atkinson, Jones, and Berger, but she has high hopes for the freshmen and knows that their experience will come in handy next season.
Three freshmen started Sunday's game, including Davis, who started all 31 games this season.
"To watch those guys go out over the last couple of games and compete the way they competed, next year we're not going to be here sitting in this position," Cardoza said. "I know that."