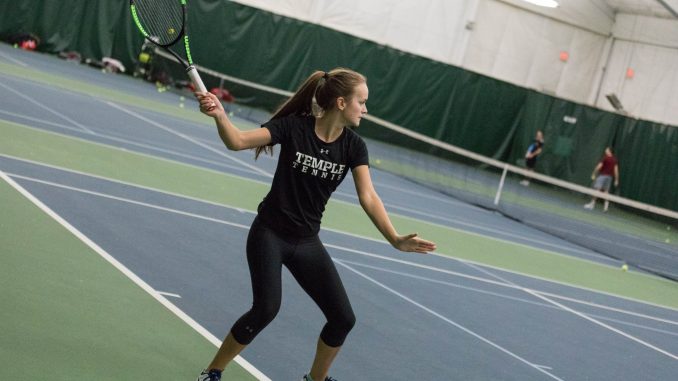 The Owls avoided suffering a third straight loss by beating Lehigh University, 7-0, on Saturday in Bethlehem, Pennsylvania.
Temple (6-6, 2-1 American Athletic Conference) won all six singles matches. Five of the six victories came in straight sets. Junior Alice Patch won her match, 2-6, 6-3, 11-9, in the fifth flight.
Senior Alina Abdurakhimova has recorded wins in back-to-back singles appearances for the first time this spring after her victory against Lehigh senior Christina Auyeung in the top flight.
Abdurakhimova and senior Monet Stuckey-Willis also earned a 6-2 doubles win. They played together for just the second time this season and earned their first win.
Freshman Oyku Boz and sophomore Kristina Titova earned the Owls' other doubles win, a 7-6 victory against Mountain Hawks sophomore Sibel Can and freshman Paula Gonzalez.
Boz has played all but one of her doubles matches with Titova as her partner since making her spring debut on March 2 in a win against UConn. She and Titova have a 3-1 record in Spring 2018.
Titova beat Can in singles for her sixth victory of the spring.
Temple's next match is on the road on Thursday at 1 p.m. against Drexel. After their match against the Dragons, the Owls will host four of their next five matches to close the regular season.